August 28, 2010
What do you think will make a good ambiance of a house when it has its floor made of tiles? Unless if one's house is all carpeted then rugs may perhaps do not have its area in there but I do not think most house or apartment owners can do that. Their bathroom or kitchen may made of wood tiles or any kind tiles. It is covered with floor mats, I can tell (it is because I saw many though wood tiles are prone to most houses). But even so, they would still in-love with what the beauty of rugs can do. Ambiance. Simplicity, depending on how floors built and its color. One must have a good rug's design on it. Art is what it matters. I just remembered it came to my mind that an area rug for our door step is essential and even in our bathroom's door step just to know that latter, is a bathroom because it seems like it is just a bedroom. Well, okay there's no name on it, rug tells as a sign. It tells the difference so one can have a smooth journey rather than asking " where is it " again and again. ;-) Or what other places are area rugs be placed? Living room center too or a big mirror's floor. Where else?
February 18, 2010
As I seen my grandparents and my father building their own house, I could say it is not easy. It requires hard work or if not a money to put it up if you are not a carpenter and wants other professional to build it for you. The materials prices are increasing as well as human labor too. It is also imaginable that if you do not have enough bucks for the construction and such, the time length is longer as ever you could imagine especially if it is built through metal buildings construction materials but I could say the construction will be worth it because of its sturdiness and the lasting preference. I (with my DH) hope to have a house one day but I do not know if it is made of metal ones because of its cost. I just wish to have. (~_~)
January 24, 2010
posted
by

:
Cacai M.
Insurances! What a better way to have something when home owners are in a way of nothing? Home insurance... is it important? Is it only add to the bills and expenses? What are its benefits? Is it only cheap to have it? Is home insurance quote help home owners to compare prices? Is it reliable and bring more advantages?
I could say, it's important to have home insurance especially when you're home location is prone to flood, hurricane, storm, fire, and calamities like that and those. But since sometimes calamities can't be predicted, that's then the disaster come into. Home insurance is important when you think of security, that is when something happen on your home you can have some claims. Just being practical and thinking on the future. Home insurance is the partner of the house as you bought and live with . It's important and need for the house, apparently for the owner. Though it adds to the bills and expenses but it's all worth it because you don't need to worry every now and then when circumstances that can't be controlled came. It's some sort of security on home owner's part. so far, that bring advantages unless if you don't have enough to pay for it.

August 06, 2009
posted by: Cacai M.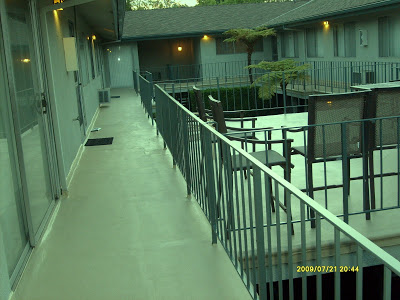 I took this picture at the date in the image as well as the time. As you can see it was still more like early evening but it's already 20:44 (8:44 pm).

Anyway, the above picture is our neighbor apartment rooms in the apartment complex where we live. Perhaps you could picture out it's a small ones but in actual its not such. One apartment has 2 bedrooms, spacious living room and kitchen, etc. Many apartment complex also in the nearby area here. The apartment complex shown is composed up and down of which it has 11 rooms all. The garage is a wide one downstairs. The commercial laundry washer and dryer too is downstairs. It has also a water fall and fishes before(as my husband said) but not after I came here and the management just put soil and plants in it to maximize the area and I guess to avoid maintenance of the area. And weeks ago, it was repainted (the outside area excluding the roof). Hubby said when there's a renovation or some from the management it's of additional payment and we're glad the rent is still the same yet new painted environment. It's cool! And now you can picture out where I (with partner, most love, and most important person of my life--hubby) live, huh? (~_~) Anyway, this business was owned by the company named after one of the family name of the famous Los Angeles Lakers basketball team player. And am proud to live here.. (~_~) So then, have a nice day folks!


May 20, 2009
posted by: Cacai M.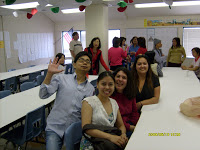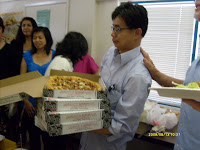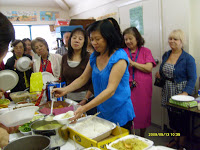 Me and my classmates. ********One classmate brought pizzas. ****** Introducing the foods brought.

The School Spring Class event happened one week ago Wednesday--May 13, 2009 at 12:00 - 2:00 pm. The class of which I am currently attending in- had our potluck one month before the Spring Class vacation. Break is fast-approaching and am happy about it. As to what I said in my other post in that I will not be having my summer so some kind of 3 months of vacation from school. Whew! great one! heheh.. I like learning and love education a lot, it's just that I have some important task to do too, and I do not want schedule conflict that's why I need to do it. Okey, back to the potluck event, we have lots of food so definitely it's all about eating as in chow. (~_~) heheheh.. It's just a short time but the class composed of two schedule that is AM and PM Class joined in together and there we had fun eating lots o f Chinese Foods, Cambodian, Mandarin, American, Mexican, Japanese, French, and the like:


The foods at the left side of the table.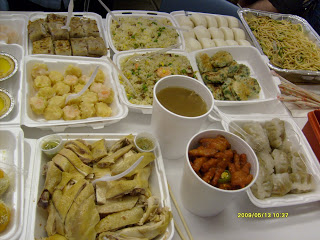 At the right side part of the table(mostly Chinese and Oriental Foods as you can see).
You can then see more of my classmates who are mostly has chin
ky cute eyes below and our computer class room. I had not took pic of the drinks and the deserts because I arrived late. And I was the photographer of the following pics that's why am not so present.. Hold your hunger in there as you can see the foods in the table.. heheheh.. Here are the pics of my classmates(

click images to enlarge

):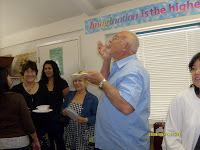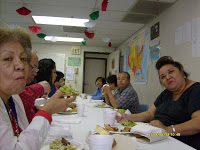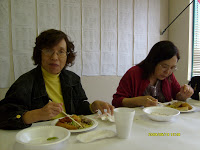 Our professor tasted the foods.
*********At the table where I belong. *************Chopsticks peeps.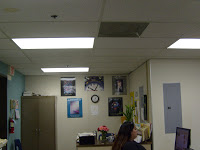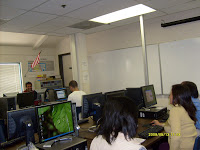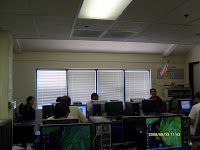 At our computer class room. Classmates checking up their pc. My classmates at our school pc room.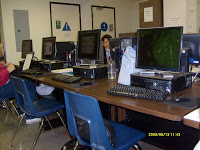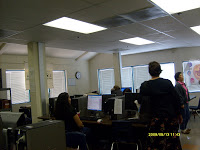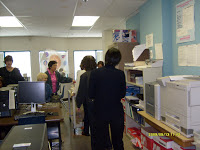 New computer models.
******************At th
e back sid
e of the room.******
Com
puters s
upplies and tools.
I will surely miss these cool peeps classmates of mine when vacation takes in. Lab yah classmates! You're really fun to be with in learning! See you then on the next semester after this class.. muahhugs!

********
Thank You

FIRST COMMENTER:
Arnie
May 17, 2009
It's pretty one week past that me and my hubby went to my co-blogger and friend as well as neighbor in Gingoog City and in Los Angeles (hemm.. lots of adjectives huh? heheh..) - Analou's home in Westchester to visit her. While we're there hubby took a pic of me and my friend as to remembrance. I also have something for my immediate family and she offers to bring it for me. She's one very nice and accommodating friend. I appreciate it. Anyway, hubby got amazed of their garden, I like it too. Her husband have a lovely house too. We could be very near if the old house in front of them is for sale but unfortunately it's not. The good thing about it is that it's near the airport and the house is quiet old and it's just need renovation, the cost is just not too expensive as we(hubby,me, and my friends) saw the face value. Well, that's okay perhaps we're just unlucky about it. The following were the pic for the remembrance.
my humble friend Ann and me at their garden and at their other room, I love the paintings!
Analou works as a manager at one of RD Pawnshop wayback as she was in our homeland before and she's also working here in Los Angeles now as a sales associate in BBB store. She's one lovely friend and one of the good people I found and treasured. Anyway, she is travelling now going to my one hometown- Gingoog City. I hope all is well. It will be fiesta in there soon on coming May 22, so, Happy Fiesta Gingoognons! Kudos!
May 07, 2009
posted
by

:
Cacai M.
Are you looking for a rugs like area rugs, and such? Mother likes stuffs for household a lot. How about including an area rugs as a gift for her? And it's of a perfect timing because it's in sale now. Folks, Mother's Day is fast approaching - 3 days more(May 10) and it's their day already! Am sure they will love if you could give them the stuffs they like. I know how you love your mother that much and you want to give her happiness in a way of bringing you in life, isn't it? Mother's Day could only happen once in a year so you might prepare in advance for that day folks. Daughters and sons out there, wake up and start planning now! Ahh including me.. (~_~) Happy shopping everyone!
March 31, 2009
posted
by

:
Cacai M.
Aside from writing and blogging, manual sewing, listening music, dancing, swimming, and biking, I have my new hobby now. I got a good influenced by my teacher Jackie and my two classmates which are from Thailand and China of my conversation class every Friday. At first when they talked about it and wanted to exchange stamps from my country home which is Philippines, I just said okey and the next week we met we exchanged. I was not that really fun of, I am just happy when people are happy and as long as I have it then why not, right? So then, the next session our teacher said that she will bring her collection of stamps and she did it, we saw her collections last Friday and I got fascinated how she had! A lot! there are commemorative stamps around the world but mostly made here in USA but the thing is it's so awesome how she managed to have it, it's not used stamps it's new and it is ready to use everytime she wants to use but she won't permit herself to use it for ordinary use. So there, it's some kind like of photo albums form smallest to largest and mostly are blocks of stamps. There are international famous persons, things, and events which is called "commemorative" meaning "in memory". I bet you she has lots I guess 10 albums, and also there are rare ones which of great value! She said she began to collecting stamps the time she had her baby, and now her son is already married and I bet the age is 30+ already and now her son is the one continuing to collect stamps for her. And so, I got fascinated with it that it's then sensible to me. After that school hours I dropped-by then at the USPS and buy commemorative blocks of stamps. The older the better and good if it's first class 'coz if you want to use it, the value is equivalent to the current value. But am not after of the value, what am after of is the essence and importance of it. I will then find stamps which dated the the year that I got birth and to the present. I guess it would be rare and expensive, I just try if I can have a good deal. If not, then I would love to collect the year that I got here in USA, and that would be the commemorative of my stamp collecting. The other one which I got fascinated that turned me to hobby is the post card collecting. Just like the first one, it would be then international thing. And I would love to exchange to peepz and friends who came from different countries. I guess it's just easy for me 'coz I have lots of classmates who are from different countries like China, Hongkong, Korea, Thailand, Mexico, Japan, India, Germany, Vietnam, France, Cambodia, Singapore, and more. I am only the one came from Philippines, sometimes they teach me their language which I like much so I can be multilingual. heheheh. Is that cool folks? Well then how about you, can you share your hobby to me too? Do you like commemorative stamps and post card collection?


****
Thank You

FIRST COMMENTER
->
...

of Being a Medical Student

March 08, 2009
posted
by

:
Cacai M.
Mostly, during weekend especially Sunday I do cook my favorite dishes or anything that is rare food(just uncommon not exotic huh?) on weekdays but today, I don't feel like cooking it today. Am not feeling well that's why. So what I did is just did a little cleaning like wiping some dust in the window and the furniture, and so with the throwing of garbage. And that's all! heheh. I didn't even wash clothes and vacuuming neither went to church. huhuhu. Sorry Lord God- am really not feeling well- promise I will go to the church next week, rain or shine. So then, hubby woke me up at 8:30 am to let me fixed myself to go shopping for the gift for the on-coming birthday of my niece as well as my god daughter. I told him the other day that I have to go shopping for her this weekend so I can mail it on Monday(tomorrow) before I go to school. So, the plan went good. And I have now my gifts for her- already done for mail tomorrow. I know she will love this because this is from her wishlist. I just hope she will receive this package on or before her birthday which is on this coming 13th of this month. Anyway, it's just in Tennessee so I guess it will arrive at time. Some kind of busy too, with that, we just ordered a burgers and some soda for our meal going home lately. We just picked it up. It's just sad to say that hubby don't ordered my burger correctly- instead of cheese hamburger for me, he ordered only hamburger that I don't like 'coz of the salad inside in it- am just glad there's no mustard which I hated most. It turned out to be good then until at home that I just ate 1/3 of it. Whew! I can't really swallow it- am sorry. It seems no good to throw foods but I just did it. But I don't let my husband knew. Don't tell him.. heheh. Ohhh poor hamburger. This food will be my next
hunt to learn how to love it
.
So, instead of hamburger, I just cooked rice and broiled dried fish and yummm!
Beloved
First Commenter

:
_el@i_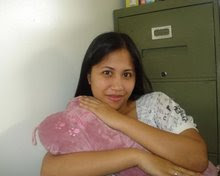 February 16, 2009
posted

by

:

Cacai M.

Waaaaahh.... for just a month, am lossing 1 to 2 pounds(lbs.) already. My husband called me "skinny", am I? before I weigh 105 lbs. now its 103-104... weeeee... what the _ . Anyway, it's not that much but I need to gain back the weight I loss. I take blogging seriously in level with my study, as a wife, and as myself as well as to mention my social networks too like friendster, etc, so on and so forth. Sometimes hubby got told me that I prioritized my blog but not, actually sometimes before as I just started it- did I already mentioned those sleepless nights to be this in order? Well, that was before. Now, I can take control of my time. I love my life, it's as busy as a bee. Heheheh.. But to tell you, though sometimes I forgot to eat one meal but I make sure that everyday I take my One-Day Multi-Vitamin (a woman's dietary supplement) to prevent sickness and if ever I had sleepless night, I make it up for the next day as well as just took a half-bathe- make sure you don't wash your hair/head to prevent again, sickness. Well then, have fun everyone! Have a nice day... (~_~)
February 01, 2009
posted
by

:
Cacai M.
How are you everyone? Seems its four (4) days that I haven't post of what have happened with. It's just been busy for the social networking/media thing here for my page rank and I don't know if I happened to add the gadgets and sites which are essentials. Anyway, am also some kind of my other work as a wife(cook, clean, arrange stuffs, etc.) and as me, personally. Yesterday I planned to post in here but I ran out of time for me and my husband bought stuffs for my for my school tomorrow, hope I still have the slot for such. Am excited to go to school again.. (~_~) I remember as was about to graduate college, I said to my self, I will not went to school anymore- I mean I wanna have a life which I don't want to think.. wheewww! .. as was very occupied with the lessons- fully loaded every semester for I also had to maintain my academic scholarship(Dean's List). Well, maybe unfortunate 'coz out of eight(8) semesters I only got two(2

) semesters for half scholar and one(1) sem. for full scholar but at the same time fortunate too because just

few students got that scholarship in private schools where I studied not university though but still hard. I had lots of struggles and hardships during that time. Well, I don't want to brag but I guess am worthy of what I did, right folks? Anyway, just reminiscing. And now, am excited again to go to school! Well, just follow me as time goes on as I will update you of my education journey.. I know everyone of us has a share. So, then god bless everyone. Have a pleasant day! (~_~)