May 20, 2009
posted by: Cacai M.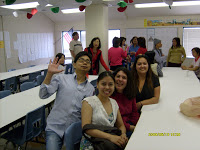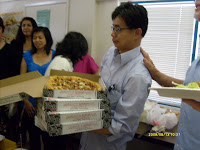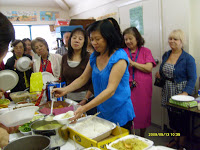 Me and my classmates. ********One classmate brought pizzas. ****** Introducing the foods brought.

The School Spring Class event happened one week ago Wednesday--May 13, 2009 at 12:00 - 2:00 pm. The class of which I am currently attending in- had our potluck one month before the Spring Class vacation. Break is fast-approaching and am happy about it. As to what I said in my other post in that I will not be having my summer so some kind of 3 months of vacation from school. Whew! great one! heheh.. I like learning and love education a lot, it's just that I have some important task to do too, and I do not want schedule conflict that's why I need to do it. Okey, back to the potluck event, we have lots of food so definitely it's all about eating as in chow. (~_~) heheheh.. It's just a short time but the class composed of two schedule that is AM and PM Class joined in together and there we had fun eating lots o f Chinese Foods, Cambodian, Mandarin, American, Mexican, Japanese, French, and the like:


The foods at the left side of the table.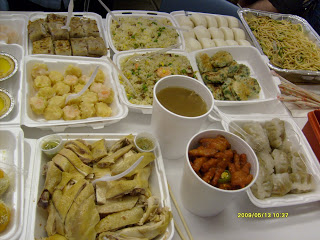 At the right side part of the table(mostly Chinese and Oriental Foods as you can see).
You can then see more of my classmates who are mostly has chin
ky cute eyes below and our computer class room. I had not took pic of the drinks and the deserts because I arrived late. And I was the photographer of the following pics that's why am not so present.. Hold your hunger in there as you can see the foods in the table.. heheheh.. Here are the pics of my classmates(

click images to enlarge

):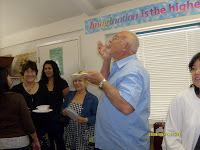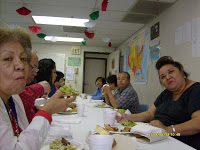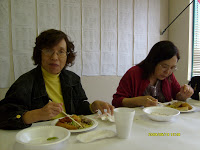 Our professor tasted the foods.
*********At the table where I belong. *************Chopsticks peeps.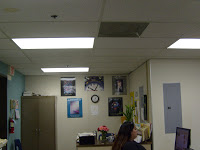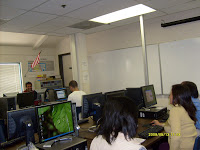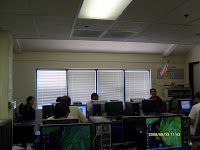 At our computer class room. Classmates checking up their pc. My classmates at our school pc room.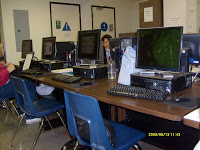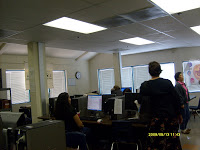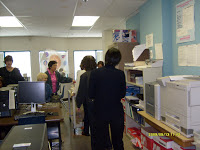 New computer models.
******************At th
e back sid
e of the room.******
Com
puters s
upplies and tools.
I will surely miss these cool peeps classmates of mine when vacation takes in. Lab yah classmates! You're really fun to be with in learning! See you then on the next semester after this class.. muahhugs!

********
Thank You

FIRST COMMENTER:
Arnie
8 Comments:
May 20, 2009 at 8:02 PM

 

kuyawa ninyo ug handa gurl oi :-)

hehe, have a blast!!

May 21, 2009 at 2:53 PM

 

wow ang daming handa!!! ^_^ ang saya naman!

May 21, 2009 at 9:06 PM

 

OMG! Food is flooding :)

May 21, 2009 at 9:22 PM

 

oi cai! mukang nasira ang diet nten ah!! dami food!! saraapp!! :) heheheh

May 21, 2009 at 9:34 PM

 

grabe the chow ha! kakagutom! lol

May 22, 2009 at 5:39 AM

 

pag ganyan kadami food lagi..need na yata ng diet pills..hehehe..sarap!

May 23, 2009 at 1:15 PM

 

Hi Cai, I have an award for you at my blog. Come and get it ; http://www.ilovehateamerica.com/a_filipino_immigrants_lov/2009/05/isnt-it-interesting-and-lovely.html

May 23, 2009 at 9:53 PM

 

visit here too madam sis..kadaghan sa pagkaon woi...bonga...unsa man imo dala sad?

woi miss to hear from you...great to know naka pahuway naka sa school..ako nasad ani back to school by august...:) au-au diha