August 22, 2011
Have you already seen a house color blue? As in if it's a wedding, blue in motif? Well, not only the decorations and accessories or painting inside the house but also outside. Yes, a blue house! Blue is the dominating color of it. What do you think about such? You may think weird but it is pretty when it is designed and a cool color but I don't think what I saw is cool unto my eyes. Not that so. Maybe it still need renovation or unfinished. Our car was moving fast as I captured the photo below. I can see it is color blue and fortunately I got a picture of it even if the car was running fast. Nad and I were from school that time and hurried going to get the food for lunch (at 1pm) because we're already hungry. Yeah, you're right I spotted the house on our way. And not so sure of its style. And so this is it below. Maybe it looks like a haunted house. Oops! How do you like to have a blue house like this?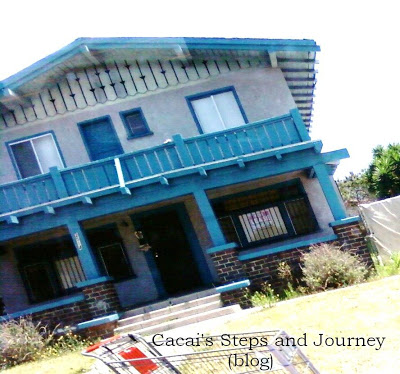 Anyway, happy Blue Monday everyone! Enjoy the blue scenes! ;-)
February 07, 2011
Hello everyone, its Monday once again. Manic Monday time, eh? Time to move our asses off. Ha! It is workday again to those who work. Good luck to the hard working ones or the work people. This time, am sharing of one of the blues in my table. The
blue

pens
,
blue

writing
on a scotch holder and on the big pen and
shades of

blue
in a not-so-visible air freshener which is located above the
bluish

-purple plastic flower
. Much blue in an image above, eh? To see is to believe. Ha!
Such ones are just few of the blue stuffs which can be found on my table. Just sharing. You can also share should you like, well, it's better. :) Do you love color blue? And how do you like it?
Thanks by the way to
Smiling Sally
for hosting this awesomely Blue Monday meme. Happy Monday everyone!
January 17, 2011
This is my first time of this year participating a post which contains blue or Smiling Sally's
Blue Monday
meme. How I love posting memes but due to some important ones that have to be prioritized first, it is just now that I have my "come back" post. And so now, here's my first entry for this year (which it was being taken last October 20th the other year):
Those are three
blue cars
and the
blue curtains
in front of the apartment complex. You might wonder where is this, well, this was in front of where Cacai_Nad lives. It is in front of the apartment complex to where DH rented. I was the one who made that shot through my cellphone, such time the time I went up downstairs into the mailbox to get the mails. It was raining though blue colors are still visible! Happy
Blue Monday
!
June 27, 2010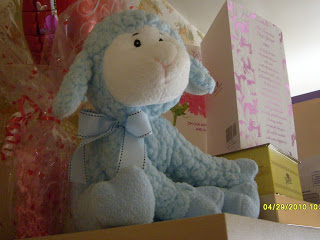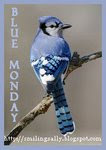 It has been a long time of not h aving my blue Monday in here. Oops! It is just a literal blue, okay? ;-) As I grew older or a mature individual, I learn how to embrace what I do not like. Just like a color blue, yes, I do not like this particular color before. It is not really that I hate it but I just do not like as what most folks like. My sister likes this color a lot and it actually is her favorite color but not me. But as I said, I now embrace it though it do not become my fave color but ooh, I love it!
Just a good time, last year, my sister gave me a gift -- a blue stuff toy. A teddy bear which I call it teddy. She gave me that
blue
teddy (pictured above with a card and other stuff) as her first birthday gift for me. Yes, it is first as in first ever birthday gift. ;-) And I kept it, until now it looks like new. :) I am a good keeper so one/she could expect me to do that. With that, I was more happier with my natal commemoration last year. :) And also this year, and hopefully in the next coming years! Have a great
Blue Monday
everyone! Have a fun weekday!
May 02, 2010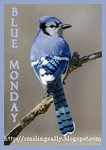 Monday, ooh Monday... here you are! It's time for
blue
color hunting folks. Time indeed flies so fast as if we will not chase upon it. And now, it's Monday! My entry is crystal clear blue sky with a dash of beautiful white clouds on it. It is just a sign that the weather we had the following days (and onwards ;-) is still as this. I couldn't be happier for it. No much so worried about nature problems and such. God is great!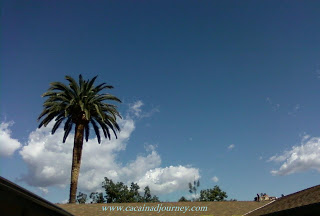 blue color sky
I got tempted with my phone to catch this
beautiful blue color
sky with a dash of white clouds which looks like cottons up above in the apartment complex where DH and I stayed. It's beautiful so I again, I can't resist out of it. ;-)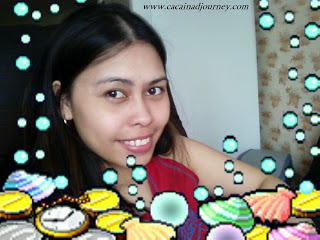 moi haggard look with blue trash can, dash of blue in my red shirt and bubbles ;-)
Yep, it's me on my haggard look. I just woke that time, then went out straight unto facing up in front of my PC doing some checking and at the same time doing my art thing (you can see it at my art above.. ha ha ha! ;-)
Happy blue color hunting Monday! For more Blue Monday, head on to
Smiling Sally
blog. Have fun hunting.. ;-)
********

April 19, 2010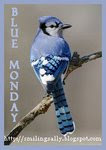 I was walking down to our downtown city stores when I passed this newly painted business establishment's building into
blue
with a dash of red and some but more on blue. I was like in awe because this was not its color before and looks good on its new color. I never knew that it was an order from city hall that business establishments including stores, apartment complex buildings (including our rented place), restaurants, movie theaters, car wash, townhouses, condominiums, shops and even residential homes was ordered by our city hall that it need to have a newly repaint and am so glad with it. It looks so new in our surroundings by now. :-) It is really cool to have it painted especially this
blue painted business establishment building
I told earlier.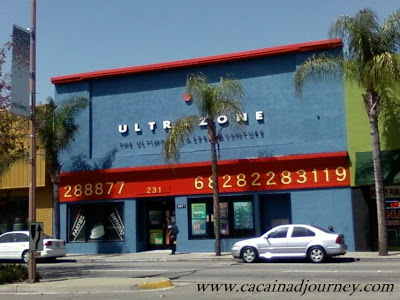 blue painted building
As I saw this newly repainted building's color, I remember of
Blue Monday
which is hosted by Smiling Sally and like that blue bird above that eventually I am playing every Monday like what I do now. :-) It was beautiful unlike its last color. Surely, it will be seen by its prospect customers directly. It is such a joy to have seen and chasing blue you know.. :) One more thing, I had also one more blue which I saw DH put it in one of the box in our bonus room (or my stepson's room when he's here) to which I do not know why he put it in there, possibly he dried it or he knew I am chasing blue? Lol.. absolutely not the latter one because first, he was at work and he doesn't know about BM.. heheheh... it is just coincidence, I guess. What do you think is the reason/s?
April 12, 2010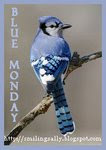 One thing also am excited about Monday is having a blue Monday hunting of blue stuffs.. Though it is a bit of work to spot the blue ones but it is fun to do, so am participating! :) Well, as I said am not that so fond of color blue but I cannot also deny that there is something in it that makes me feel great, I mean look at that blue bird don't you not like to chase with it? With its beautiful color blue, you will be enticed to look at it even just a minute. :) Wow.. the feeling is not blue but rather a happy and gay! :) Today, I just spotted a blue small plastic on the table containing my hair clips besides my computer. Aside from my hair ties (which is in another plastic) and hair stuffs in the bedroom, I also have this on my PC table so anytime I want to get a clip or anything it is just within reach.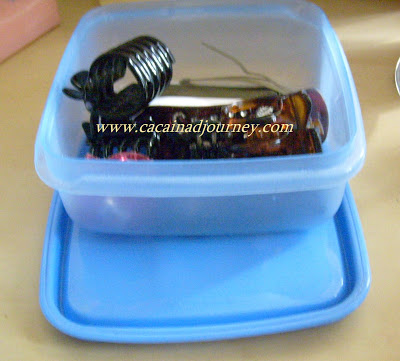 blue
plastic containing my hair clips
I also have this
blue bowl
and a
blue cup
below. This blue small bowl used to be a carrying holder of the bc pills I am taking in everyday and constantly put in our table and refrigerator so it is easy to spot on so I won't forget the pills am taking in.
March 22, 2010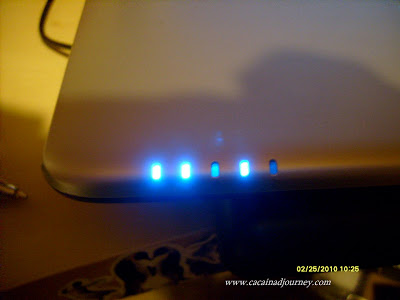 Isn't it Monday yet? :-)
Blue Monday
is here too! It is not a blue feeling but a
blue color
hunting but perhaps if you insist you can do your bluer than blue feeling as well. Hehehe... kidding aside... :-) Above is my PC indicator when am on my computer doing something. It just that mean that am connected to a Wi-Fi, internet, powered on,
blue
tooth
and its battery indication. Whenever there's some less (the indicator stuff is not full) on it then there's something going on which is not good and have to look every now and then when it is time to charge or anything I have to do in any of it when it is already time to. When I could care less, then something will happen as I am doing my PC thing or worse will affect on my computer internal memory. So, careful... careful and careful... oops just a reminder to myself. Hahahah...
Have a fun Blue Monday! :-)