May 02, 2010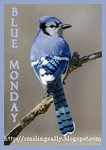 Monday, ooh Monday... here you are! It's time for
blue
color hunting folks. Time indeed flies so fast as if we will not chase upon it. And now, it's Monday! My entry is crystal clear blue sky with a dash of beautiful white clouds on it. It is just a sign that the weather we had the following days (and onwards ;-) is still as this. I couldn't be happier for it. No much so worried about nature problems and such. God is great!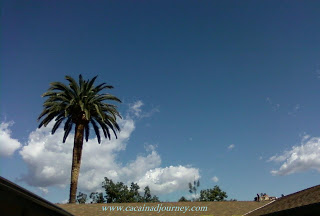 blue color sky
I got tempted with my phone to catch this
beautiful blue color
sky with a dash of white clouds which looks like cottons up above in the apartment complex where DH and I stayed. It's beautiful so I again, I can't resist out of it. ;-)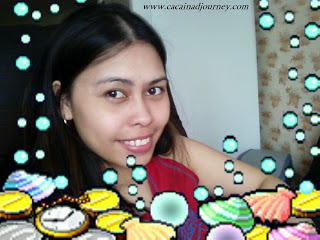 moi haggard look with blue trash can, dash of blue in my red shirt and bubbles ;-)
Yep, it's me on my haggard look. I just woke that time, then went out straight unto facing up in front of my PC doing some checking and at the same time doing my art thing (you can see it at my art above.. ha ha ha! ;-)
Happy blue color hunting Monday! For more Blue Monday, head on to
Smiling Sally
blog. Have fun hunting.. ;-)
********

6 Comments:
May 3, 2010 at 7:06 AM

 

That sky is gorgeous, and you are pretty even when you THINK you are haggard. Happy Blue Monday.

May 3, 2010 at 8:30 AM

 

You look pretty Cai and the first pic is also pretty. Happy blue Monday.

May 3, 2010 at 10:09 AM

 

hahhaha...haggard man jud ang term woi...ka pretty ra ni madam sis ah...ehehhehe!

sau galing imong entry this week....hadlok galing ni ma closan da...hahhaa..ako nasa ang ma closan ani kay wala pako entry....lol!

thanks for sharing madam sis...

agi ko dire kadali kay taas pa akong misyones....lol!

May 3, 2010 at 11:00 AM

 

great shot of you sis.....dli man haggard...agree ko ni sis Dhems...pretty

May 3, 2010 at 1:44 PM

 

Loved the pretty blue sky scene for today. I may not have the best of eye sight, but you are far from haggard. You have been blessed with so many followers, but I am making you have one more.

May 3, 2010 at 9:44 PM

 

Thanks guys for being here.. I appreciate it much and will get back to yah later.. muahhh!