April 19, 2010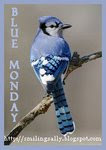 I was walking down to our downtown city stores when I passed this newly painted business establishment's building into
blue
with a dash of red and some but more on blue. I was like in awe because this was not its color before and looks good on its new color. I never knew that it was an order from city hall that business establishments including stores, apartment complex buildings (including our rented place), restaurants, movie theaters, car wash, townhouses, condominiums, shops and even residential homes was ordered by our city hall that it need to have a newly repaint and am so glad with it. It looks so new in our surroundings by now. :-) It is really cool to have it painted especially this
blue painted business establishment building
I told earlier.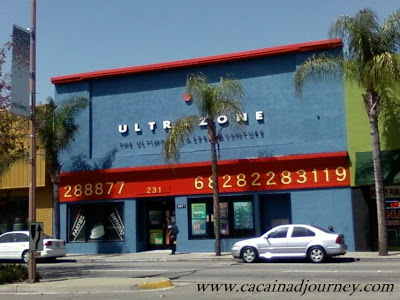 blue painted building
As I saw this newly repainted building's color, I remember of
Blue Monday
which is hosted by Smiling Sally and like that blue bird above that eventually I am playing every Monday like what I do now. :-) It was beautiful unlike its last color. Surely, it will be seen by its prospect customers directly. It is such a joy to have seen and chasing blue you know.. :) One more thing, I had also one more blue which I saw DH put it in one of the box in our bonus room (or my stepson's room when he's here) to which I do not know why he put it in there, possibly he dried it or he knew I am chasing blue? Lol.. absolutely not the latter one because first, he was at work and he doesn't know about BM.. heheheh... it is just coincidence, I guess. What do you think is the reason/s?
8 Comments:
April 19, 2010 at 9:52 PM

 

Im here at you BM tsang. nice sa inyong place ky malakaw ra mn and have lots of nice things to see and shop.

April 19, 2010 at 10:04 PM

 

heheheh.. lagi Tsang, nuon, am glad nga duol ra ko sa downtown.. :-)

April 20, 2010 at 2:02 PM

 

Blue is my favorite color Cacai. Have a great week my friend.

April 20, 2010 at 2:22 PM

 

Ooh I see.. Thanks for being here Bill, the blue man ;-) .. that's cool! ~hugs~

April 21, 2010 at 11:13 AM

 

agoy kadaghan sa blue...ehehehe..thanks for sharing madam sis....laag ko dire kadali kay mag blog hop sa tawon ko...absent man jud ko gabie...ehehehe!

April 21, 2010 at 1:25 PM

 

lagi.. blue na blue jud kaau madam sis.. thanks for being here.. muahh!

April 23, 2010 at 11:51 PM

 

it is like in singapore sis, last 2008 when i got there i came to know they have an ordinance requiring all business establishments to paint and refurbish their business buildings. glad u were able to take pics. wa matingala ang owner sa business building, lol

April 24, 2010 at 10:35 AM

 

Te Mel, yep there is an ordinance here and I so love the idea. By the way, nope wla mn natingala ky naa ra mn ko sa layo nag-picture.. hehehe..