August 12, 2011
I craved for corned beef, Purefoods. Martin corned beef was introduced unto my taste. I believe it was being made/manufactured just recently by the Purefoods Company. Its taste and appearance (not the packaging but the corned beef appearance itself) is just like its other corned beef, the Chunky Corned Beef. It tastes so good. And from that time I tasted it, I then liked it until this time (most of the time when I always taste it, it is then monotonous). I cannot find it in the nearby store here in the place DH and I lives but have to drive 15 minutes or so to get it. What I did was just ordered online last Saturday (August 6th) and six days after (counting includes weekends, it must be it was being delivered to UPS Monday if punctually). And then today, just hours lately, it arrives with some other little stuffs. Take note, it's from New York! ;-) I don't care about how far it is because it is worth my pangs. :-)
If you can see (you can click image to enlarge) that includes dried fish which was being mailed together but was put in a separate wrapped bubbled envelope (so the smell won't go out, probably, or because it is delicate). That's it, it costs me $29+. And I don't care if it is pricey or what as long as I got what I craved for. :-) This is only sometimes so I have to indulge! Ha!
That will be before I deliver my baby by middle of September. So by this month until first week of September, the stashed cake ingredients I have here in the house should have to go. I should have to cook it since I can foresee I will be very busy when the baby is already out in my tummy. :-) The first three months I know would be tough which pediatricians actually called it as the "fourth trimester" because the baby-in-my-tummy will then adjust to her new environment which is the real world. :-) I have these ingredients gathered when I was still in our old apartment and I even gave some to my friend, Ate Claudia, or else it will get expired. Now, it is my time to cook the others left. And enjoy. Smile. Then my kitchen journey will then be having a joy ride. Ha! I was just very busy (pregnancy busy-ness) and I cannot yet find a good time to fulfill my goal, which is cooking such. :-) Soon enough I will have to cook it all. Crossing my fingers.
August 08, 2011
Yours truly have been experiencing leg cramps as you know am 34 weeks pregnant now. Before this 34th weeks, I had it already, well, not that bad enough before but then I learned and was advised with reading how to cope with it. One of the ways on the journey of coping up with it is eating avocado fruit. I was reading on the pamphlets which my OB-GYN gave me. Those were a lot of pamphlets but I was patient enough (I should have to or else, nothing kept on my mind or I will be an airhead. Ha!) to read those, again, I should have to. I then eat avocado at least twice a week even if I do not have cramps (but of course especially if I have, I should have to eat those if I have it).
I do not know if you believe me but I do not care about my body before, as in "sickness, come what may" and I do not care! I would just care if it was already there. Resilient bod, huh! I was just opened my eyes on the reality after a close friend of mine told me about it, that I should have to observe my body needs to be on the right track of being resilient body. And so now, I was used with it. I already care.
This avocado thingy really have good effects on the leg cramps, I observed my body several times of not eating it between eating such. I can prove it myself aside through experience aside from it is already proven by science. :-)
August 06, 2011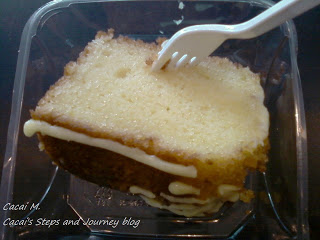 Image above was taken dated April 23rd. Well, I just told you the date because I was already craving of this several times before I took a pic for my remembrance of one of my cravings. I don't know but as DH introduced this not-so-sweet cream cheese cake from 7/11, I then keep on wanting it especially DH went to that store and asked what I want. By this time, I still want to have such but not jut like those times. As in, I can eat two-three pouches of it the a big slice which in fact, I cannot eat a cake like that sizes with that pieces. Nothing much but this really means a lot to me especially those times, such month. It's really a food trip huh! Should I have to blame my pregnancy journey or what! Ha! Now am thinking of letting DH bought this. Am still in thinking because DH already had drive a lot of places of interest already today aside from that burrito from Tops that I like to eat. Hemmm.. what do you think, should I have to take steps to let him drive to 7/11 to get this now? *grin*
August 05, 2011
My kitchen journey was low. I was not able to cook for dinner viands for two-three quiet days already. I used to cook food in lump sum when it comes for me. Lump sum means, in bulk cooking and the rest will be kept refrigerator for the next meal(s). *grin* It's a bit of laziness but it saves me time and effort, besides, it's okay for my appetite. If I like the food/viand, I like to eat such in consecutive way then that's it. So grab the opportunity. :-) Lately, DH told me to cook rice since he will going to get something from his office to pair with it. Of course, I did it. Then he came and brought deli-food, the ready-to-eat pulled-pork in a beautifully-made pouch. Sure, I love the taste but it is quite spicy. I cannot eat deli foods (seldom is fine) and spicy ones as well because it is not good for pregnant women like me. But then I ate a little and as I said, it tasted good. I will ask DH to get me foods which are not spicy and let him remember that or else I have to look for another foods good for me. Anyway, how was yours? What's your dinner? I hope you had a good time!
Have a great day!
July 23, 2011
If you are one of those moms who is struggling to feed your little ones because (1) he won't simply give up his bottle, and (2) he won't simply eat his solids, and is worried if he is getting all the right amount of nutrients, minerals, and ideal proteins like protein shaker that he requires to grow up strong and healthy, well, you might as well fret not. Chances are, the little tot is just biding his time and will surely bite into that first serving of freshly-mashed potatoes that you serve him sooner than you expect.
Here are a few tips to entice your little kid to eat his solids (advise from an expert mom friend of mine who have already adult kids, this also serves as my note to become an ideal mommy as I journey on taking care of my baby soon):
Vary your menu each day so he will have the chance to sample a wide variety of food to get his palate accustomed.
Start with those foods that are easy for him to digest and swallow. Mashed veggies and fruits are the most ideal at this point as he was just beginning to welcome the feel of solids inside his mouth.
Encourage him to hold his food by handing him finger foods like soft biscuits and veggie sticks to chew and munch on.
Do not force him to veer away from his bottle when he is not ready.
And also she adds not remember to be creative in feeding him, you'll see he will dig into these solids in no time. Have fun in one of the steps in our journey being/becoming a mom!
July 19, 2011
When I think of Tuesday, I can think of ruby. Ooh well, ruby is a first word of a phrase Tuesday, Ruby Tuesday? Oops this is not a Ruby Tuesday post but just a greeting to everyone. How's your daily travel? How's your work? How's everything? Cacai M. is doing well though I have to catch-up at 7pm today for my Materni-Tea and Tour at Women's Pavillion, in the hospital where I have to deliver my coming-baby Sarah Ann. I need to fix myself, eat and go! Lately I sleep a lot, I need it. Then found myself looking at the baby dresses and stuffs I bought. Dang! I bought a lot not knowing it has been more already, only to find out I already got the tags so no way to return it. But anyway, it is great to see those ones. I feel like I am already a mother. Would you believe that I am always looking at it, for maybe days already, well, about a week just to arrange and make sure the baby will be fine and always safe as well as comfortable during cold days. September is the beginning of colder days you know. Ah, mommy-to-be journey is fun at the same time a bit something to stress-on but just a bit, more of excited and being complete soon. *smile*
July 18, 2011
Yep, I am busy nowadays. Even pregnant does household works. Well, it is part of being a homemaker. A journey of being a housewife. Actually, it is not a force-able task. Meaning, you will do it or not, it's up to me or any other homemaker out there. DH has no say about such. It is just that it is really my responsibility. And I don't want to have a lot of backlogs or complicated house works in the future. After all, it is me who is oblige unto it. It is a good exercise for me anyway. I just have to make sure it won't harm the baby-on-my-tummy. Ah, a journey of a mom-to-be. :-) Isn't it challenging? Who says my life is boring! Ha! Alright, I like it that way. Just don't want to embrace of being a stressful wife. Eh?! And so I have to do the washing of clothes. Washing clothes is not an easy one for me nowadays. It would only become easy when it is only few but I don't like washing only few. Ha ha! Oops! But then, I can manage. Coming-baby's clothes and other stuffs should have to wash early too and my hospital stuffs to bring. Then I have finalize the things to bring, arrange and all that and this. Nah, am loving it! Just a bit running with the time. So glad, I have the courage to get rid of the stereotype way that "pregnant woman should not have to do" of this and that because it's not good. As long as I am not stressing myself and lifting too much of a pregnant woman can do, that will be fine. I don't want to be idle you know.
July 12, 2011
Am a bit of party whore. Ha! Okay, these days I am but not the older days. The baby-in-my-tummy likes to go parties, likes crowds. Ooh yeah, likes in front of many people as mommy said. :-) When I was young, I don't like attending such, I avoid parties though I like mingling people but party is not on my calendar, young-vocabulary or such. But then it changed when I got pregnant. Am always alive when I have invitations even if DH could not come, I insist going alone (okay with friend or friends, oops! even just me!). I don't know where I got my energy but I love it!
Last Sunday, I had my self-proclaimed statement to my husband, yes a bit of promise that this would be my last party attendance. Teehee! It's not that I don't like anymore but husband and my doctor advised me not to be in crowd because a pregnant woman has a weak immune system and it will affect a child-in-my-tummy whatever will happen to me. Alright, am such a bit of stubborn. What can I do, I have awesome and lovely friends whom I want to be with. And yes, I had attend an awesome first birthday of baby Julianna, Chelle's only daughter (for now *wink*). And she has awesome friends too whom I met when I was there. I have friends as well that made me enjoyed much. Though we haven't been swimming in their pool and sang a song (karaoke) but it's fine, we enjoyed anyway. Thanks to my friend Chelle and her husband Bill for inviting me on their child's First Birthday. Meet and greet and the pigging-out was successful especially that a whole roasted pig and a lotta foods were served, ha! Thanks guys! To Analou and Dennis, thanks for the ride! God bless! (By the way, DH thought I was just going to Airlane Ave, Los Angeles only he find out when I was home that it was in Lake Elsinore, ha! But I was safe and sound and he permitted me so that was no big deal. What a brave prego me, huh! *wink* Ah, pregnancy journey. :-) )
In life's journey, there are times that we are down. When we cannot cope it up directly it will lead to a depressing moments. Family, friends or loveone find something that would cure it up until our lives back to normal. It is not easy as I can imagine but thru helps (therapy and anti-depressants) it will be fine. But oops! Speaking of anti-depressants, there are medicines (if not all) that are not good for pregnant or expecting mom as it has been said. Birth defects are known what anti-depressant medicines can do. That is why there are many folks who file and about to file birth defects lawsuit about these medications. The following Selective Serotonin Reuptake Inhibitors (SSRI) are the anti-depressant medications as been told that can cause or have linked to common birth defects are as follows: Depakote, Lexapro, Paxil, Prozac, Topamax, and Zoloft. If you or anyone knows a mother who have taken any of these medications during pregnancy and her child have birth defect, it is advisable to take an appropriate action. Have your case reviewed or file a case. It is very sad to know about it I can tell but that is all what a person can do when an action of taking it has been done already. The company should have to pay of the reckless action being given.
June 07, 2011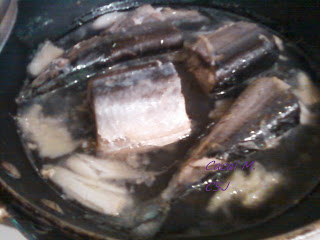 Introducing the fish cooked in vinegar. I just forgot what's the name of this fish. It is long small one. It could grow longer but I choose this because big fish is not good for pregnant woman, whom is yours truly. This picture was taken last 10th of February. Some days after I knew am pregnant. I was craving for fish cooked in vinegar (in Philippines, in our national language, tagalog, we call this as "paksiw na isda"). As in its smell is heaven to me. I liked to smell it. I just didn't like much of the fish itself but the soap of it. Of course, I put spices like ginger, garlic and a few onions then put some water. When its little soap got empty, I put more just like how I put it. Well, just the same fish but new soap. :-) And now, am craving again a fish cooked in vinegar. Dorie and Preciel, a friends of mine are good of making this and I really like how they cook it. Dorie usually made some for me. She's busy and I guess I would just be thinking of it in my thoughts. Preciel wasn't able to cook to for this day, yesterday she made but I wasn't able to come due to important reason. Ooh well, I will just find a good time to buy fish then make some. Good luck to me. ;-)
How do you like a fish cooked in vinegar?