November 30, 2010
I love shoes and I buy them in different styles and color. Unknown to many, when I buy shoes I make sure that I fall in love with it first. It is important for me to like and love what shoes I am buying because I will wear it for a long time. My shoe collection ranges from those stringy sandals, running/walking shoes, formal shoes and even boots! I am a typical woman after all, who likes different styles and likes to accentuate any outfit with a wonderful and beautiful shoes.

I also learned to love collecting dress shoes. I used not to wear those pumps but as I see it, I see more people that are drawn to wearing those kind. I can't blame them as pumps are really eye catching and they can be worn even if you are in a dress or pants. Needless to say, I got a few pairs of that too.

Being a Filipina, it seems like it is normal for us to collect shoes and purses. I guess that goes back to being influenced by Imelda Marcos who owns the greatest shoe collection. Now, if you want to be a shoe collector then, check out Zappos.com. You can shop at their website and look for shoes on sale. They have quite a wide collection of shoes that I am sure you will love.
November 19, 2010
... and then Black Friday shopping comes after this event.

Yes, USA's Thanksgiving Day is this coming November 25! Are you exciting of commemorating a special day of how important a thank you is? Even technologies, materials things we have indulging now that we do not have before as per forefather's time, is celebrating! Oops not so because Black Friday event is after Thanksgiving Day which is also the start of Christmas shopping. What good with Black Friday is a huge sale, yes, huge sale! You read it right. Now, what is your plan on Wednesday? Are you going to go with the crowd and buy the stuff(s) you like with a very low price? Happy Black Friday shopping then! And allow me to great you an Advance Happy Thanksgiving to you all! Happy shopping too! ;-)
September 30, 2010
Nope, I don't have new shoes though I want to have one now. :-) This lady behind this blog just pointing out how she love having many shoes and I guess you know why. If not then dig-in on the search bar (above the very recent post or below Google Friend Connect app) and type shoes then you will be seeing many choices under "This blog" . Now you know. :-D I presume most women love shoes, don't you? That is why whenever I shop, I would always go to shoes women's section or else I cannot find what I want. Don't you dare to tell me what size I am because I will tell you directly, size seven (7) for US/American size. ;-) It makes our journey (literally) ease with it anyway, don't you think? Have a great one!
July 25, 2010
My first black and white sketchers shoes was purchased about three months ago. Literally this is a big help on my journey. I am a person who like to mix and match clothes to shoes, sandals and even bag or any other stuff related to what I wear. Yep, it is not just on going outside but even just inside our house. That is just me as I grow, tend to adopt simplicity and in between. This is a big help because my first choice of plain color of clothes is either black or white aside from brown. It is a combination of my basic colors choice. So I can wear this with such color, plain black shirt or white or any plain jeans or shorts, or either way. I was dying to have a plain black sport shoes but this is better than it though I still want the plain black one. Ha! ;-) Okay, I have to be contented and I am. The plain black is just close to luxury to me because I cannot have it for now or it is not so important. I do not need to save every penny I can just to have it. Ha! ;-) Diary, keep it in memory.

What about you, how do you like mixing and matching colors? What are your choice of basic color for your outfit?
April 03, 2010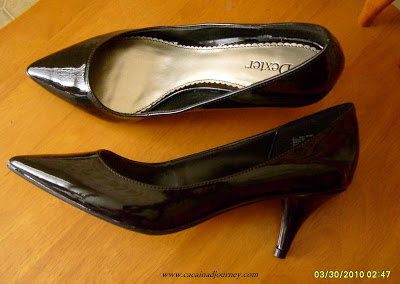 two inches high heeled
It was months already that am into buying a black pump shoes or a black close high heeled shoes for some formal occasion or going to church. It could also be use in time of interview moment, I mean an interview for a job (one day soon). So last week, the store that I am eye-ing of is having a sale and I saw this stuff, well, this pump shoes is not in-sale but nevertheless, I bought it. But at first, I really want that three inches or three and a half heeled but they don't have my size which is only seven. I tried it if it's okay to have an additional of a half but it can't so I just settled for this two inches. Ooh well, at least am a bit of comfortable because I have it already and at least am comfortable as if am just walking with my normal everyday shoes with in-sole stuff which is a flat shoes. But then still am chasing for the three inches or three and a half which I saw in an online store and it is on-sale (really the stuff is on-sale) and there is much inexpensive in our local store but a bit far. Ooh well, I want this one below.

Black Westies Barella of three and a half inches high heeled
Okay, am out there laugh out laughing of some sort because I can't have it for now, eh? Ooh yeah, I will just wait for the right time and a right budget.. heheheh.. :) Good luck for me.. aww... :)

September 02, 2009
posted
by

:
Cacai M.
O
ops! It seems a drama of soap operas. Ahemm.. it seems! It is specifically the signature products,
Nike
, am talking about peeps. Who don't want to have this popular brand? It is pricey but the quality is excellent. When it comes to sports wear, Nike brand is what comes up to my mind first.
I don't know on you but surely Nike is popular so everyone would love to have this.
So far I have some branded stuffs but Nike brand is awesome to h
ave.
I remember one time I wore Nike shoes way back years ago but it was just a test! lol. How I wish I could have one of it as my own. Ooh poor me, eh? Just a thought that December is on the way. If someone of good heart will give me a gift of this brand, I would definitely jump for joy. Whew! I hope so. (~_~) How I wish!
By the way, buying gifts and stuffs from Nike brand
, shopping Nike
is very accessible already nowadays. It is just easy to find because it is categorized from kids, girls, men, and women. You can also select if you want the classic stuffs or modern ones. If you are a bargain hunter, sale Nike products also are available. If you want to see new ones, New Arrivals is the category. So with the computer and internet, we have now the choice to see and shop what we like especially checking out my ever wish Nike products
.

May 07, 2009
posted
by

:
Cacai M.
Walking is one of the activities that a person can't do without. Every normal person is in need of it as a form of exercise and some for nature trail. With that, shoes is essential. Having slipper is not bad but shoes is better of such activity, wonder why? Have you experience of an aching foot? That's one of the reason why. Find it about yourself if you don't believe me folks. By the way, this

MBT shoes

are not just only for normal foots or person to walk, it's also good for everybody! If you're a person who had a difficulty of walking with the hard shoes that weighs heavily as well as if you're having a medical condition, try to ask your doctor about this shoes footwear so you'll be redirected medically, okey? The good thing for this is it's now on sale and if you need it, then you can have it in reasonable price, and also all of the shoes are available for free shipping not just nationwide but internationally too with such of some benefits they offer when you buy one. Check it out folks!