February 29, 2012
Hello everyone, I would like to invite you to join the giveaway that am one of the sponsors with! A whooping bucks await of you! Here it is:
Join and celebrate St. Patrick's Day with Mommy Bloggers PayPal Cash Giveaway!


Mommy Gagay teamed up with other Mommy Bloggers Dinampo Family , Cacai's Steps and Journey , My Journey Being a Mommy , Hands Full of Life , Proud Mommy of Three , Pinay Mama , Nita's Corner to bring you this awesome PayPal cash giveaway as part of the celebration for the St. Patrick's Day! They're giving us the opportunity to win PayPal cash and an Early Learning Game Cards: Teach Your Child to Count to 10 from ChildUp.com !
The giveaway starts 2/29 @12:01am EST and runs through 3/14 at 12:01am EST!


The prizes are:

1st Prize: $50PayPal Cash

2nd Prize: $30 PayPal Cash

3rd Prize: $20 PayPal Cash

2 Winners of Early Learning Game Cards: Teach Your Child to Count to 10
September 16, 2010
I just got my winning last night. To tell you I am just happy. I am unlucky when it comes to raffles, contest, giveaway, name it! I don't even like to join. Ha ha ha! Lucky me, I joined and luckily I got it. Actually, my other blog won it. Thanks to the contest host and of course to God and to all of you!

It was awesome, I still cannot believe it until now even if I already have the money. Hehehe! Oops! Am not kidding, am serious. That is because out of 122 entrants, I am the lucky one who bagged the first prize, not only 5thou entrecard credits but two domains with web hosting (in wordpress platform, I guess such web hosting is good for one year or it would be best good for five years or lifetime.. ha ha ha.. joke.. lifetime is impossible, I guess) but fifty bucks too! I am planning to share my winnings. I do not have the domains with web hosting yet but no worries because that is a pledge and sureness already. I just have to contact Rubz, the domain angel as she call.

Okay, as I said I want to share it with you. I will ran a little giveaway for you guys (co-bloggers or not, to those who are not into blog or domain you can do whatever you like to it. Be it as your gift or alike) for that two domains with web hosting. For now I am still hesitant how would I do it. Now, will you please share your idea how? I do not want any video stuff through random(dot)org as it is very common. I want to have another way. Whatever that way, just comment it here and whichever comment I like the most, I will give the first domain with web hosting to her/him and the other one is for the winner of her idea of such simple giveaway. Just a tip, I wanted it just a simple only. So jot down your idea here. This will run until Monday. Do not worry I will moderate the comments and will only publish it on Saturday morning as I woke up (USA PDT time). So comment should you like. ;-) If no comment (perhaps haven't read or just so busy and alike, or perhaps not whatever you like to think) then apparently no winning. ;-) Okay, I will not campaign for this. I will just let it be just an ordinary post. Lucky reader/commenter will then get free domain with web host (note: wordpress platform). If no comment then I will just then think what will I do with it (generally). ;-) Good luck!
March 30, 2010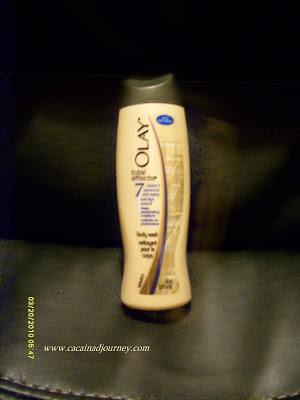 a 60 ml Olay body wash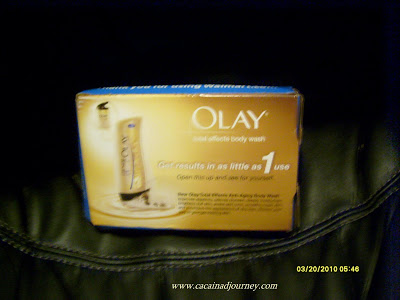 I was some kind of wordless as I got the pouch from my mailbox the other week. I thought its bigger. LOL.. Oops nope, I know it is just a freebie so I would not say anything :).. it was just a kidding thought you know... And the worse, I have put its email on my spam.. ooh my.. so sorry about it, you know who you are (if you have read this, well you will not know me since I wasn't able to put a review about it, how it works for me. I wish to say anything but I cannot find the email no more.. :-( Well, better luck next time. It was then addressed that it would be me or the new renter. So, I guess it was not a deal. :) Seriously, am sad about what I did but honestly, I do not know that it was from a store, I thought it was directly from Olay. Ooh well, again, better luck next time.. :(
I got this freebie by the way, in my blogger buddy Dhemz,
Shopping Lists & Product Reviews
blog. I would like to thank also to madam sis for getting this freebie. No string attached with this product provided you are qualified to get such, you may review it or not but it's good to provide a review so you can have another freebie from that store again. I will not mention what store for now, anyway, it was not put in the parcel, so you know.. For me, am not sure if I can have it again, I will try for sure.. *winkz*
March 21, 2010
What have you seen if you would enlarge the photo and look closely the print on my white shirt I wear in the photo below (sorry for the clutters, I just came from downtown)?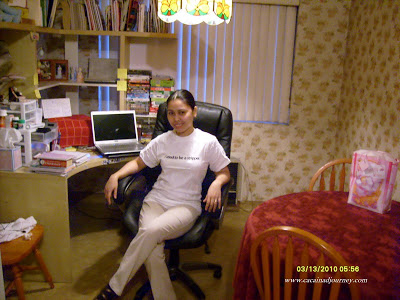 Ooh folks, you can see the print below. This is just for fun but definitely I would never wear this shirt outside our house. Eeeee. I do not want to be misunderstood for folks who do not know what photo fun is. Eeeee...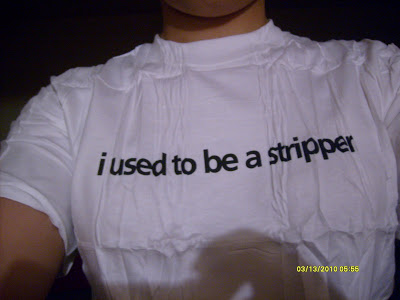 What? I used to be a stripper?) Ooh my! This is just for fun from IZEA, Inc. , okay?! When you look at the back of the photos (below) are the proof, okay? :-)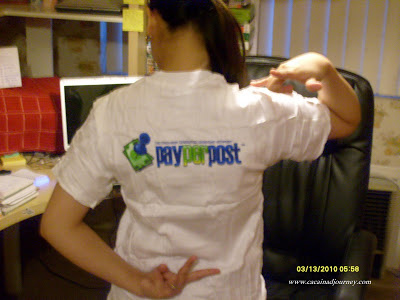 Payperpost is one of their e-company and I am proud to say, I seldom does task on them and if you happened to be an
IZEA fan in Facebook
and have some interaction or answer some questions, perhaps you can have some of their goodies to which I got this one. I actually had a
PPP pen
too as their freebies/giveaways. You can also a fan of IZEA on FB should you like to do so. You would not loss something because all you need to do is to be a fan of them. :-)
March 03, 2010
Yeah, it is wordless to the sense that the goodies are free delivered to your door or mailbox. I went to the shopping center at my place two days ago and I came home about dark already then I opened my mailbox at the other stairways entrance, then there I was surprised because I did not expect that it was as quick as it. I was just answering from their guessing game at Facebook a day ago and unexpectedly as fast and quick as that, delivered right to your address! I would like to thank my genuine blogging friend Tsang Shydub (Aliehs Worthington in Facebook -- you may like to add her too in there) of Simple Happy Life for letting me know through her blog post while I was doing my round (blog hopping) and reading my fave blogs. I then add
IZEA, Inc --- as a fan
and tried if I still have slot for their freebies and to my surprised (as well) I still have! :-) Apparently, I was happy! (~_~) I won payperpost' thirteen inches (13") pen, an IZEA sticker, and a thank you note. For now, it is t-shirt! And the good thing is you too can have too! Yep, you read it right.. free t-shirt with free shipping and handling too, as in all free for deliver at your door if you got a cool interesting name of the shirt. You have to watch the video in order for you to have an idea should you like to do so. If you wish to own one, then go ahead and add IZEA as a fan. Below are the images of the goodies I had (and currently waiting for the t-shirt I just won) uploaded at their fan page. I love it! :-) Definitely wordless as I opened my mailbox two days ago and upon receiving freebies. (~_~)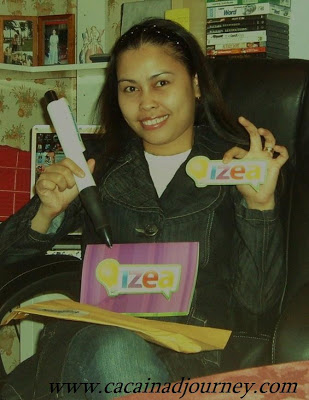 free goodies I got
January 06, 2010

This is a Sponsored Post written by me on behalf of iCoke.ca. All opinions are 100% mine.
In participation and supporting of the 21st Winter Olympics (2010 Winter Olympics) which will be held on February 12-28, 2010 in Canada (this will be the 3rd Winter Olympics hosted by Canada), Mac's Store is giving giveaway to the Coca-Cola product consumers. When you purchase two(2) of 591ml Coca-Cola products at any Mac's Store outlet, you will receive one of three
FREE Coca-Cola Collectible Medallion
. This offer is valid exclusively at Mac's Store around Canada from January 4, 2010 - February 28, 2010 (January 6 - March 2, 2010 in Quebec and Atlantic provinces). All you have to do is locate Mac's Store near you so you can get the giveaway. Take note that this giveaway is subject to availability so better get it as soon as possible.
I love coke ever since it was introduced to my taste. As I was a child, I could only drink sodas when there were special occasions like birthday, Christmas, New Year, and others. It was not present on ordinary days and when I can have it, coca-cola products were always on the table. Time to time as I grew older, I appreciate its taste more than the other products albeit of the price range. And so it became my favorite soft drinks of all time--coke or sprite; royal (true-orange) with crackers for snacks whenever I got sick. Nowadays that soft drinks are usual in our home, I make sure that when I goes to the store I got coca-cola products only. I love Coca-Cola products so much and whenever I have good news, I will pass-on to you so you too can enjoy what it has. So, if you live in Canada, grab the opportunity of FREE Coca-Cola Collectible Medallion at the same time enjoying the taste.