August 05, 2009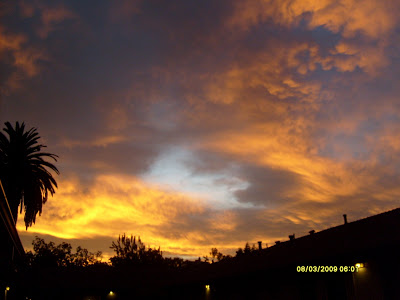 morning clouds
This picture was taken last Monday(August 3) this week at exactly the time on the image. I got fascinated with the clouds though its some kind of a fire-like. Take note that's only a cloud and no reported fire. I took this pic after I accompanied hubby at the doorstep of our apartment to go to his office workplace(his work schedule is 7-5 pm only Monday-Thursday), so that was it. Is it wordless with you? (~_~) To view of more of my Wordless Wednesday, it's in

here

. Happy WW!

1 Comment:
Analou and Bones said...

August 6, 2009 at 8:38 AM

 

I love that photo Beck. As if you are a professional photographer. It's indeed beautiful. I started admiring sunset and sunrise when I came here in the US. I was not into it when I was in the PI because I have seen it almost everyday. Here (where I live), its very rare to see the opportunity of seeing such a wonderful sunrise and sunset specially if its always overcast. How are you my friend?