January 08, 2010
posted
by

:
Cacai M.
Grab my Badge:
Introducing my friends badges here in the blogosphere below. I love to visit and reading their blogs every now and then. Here they are: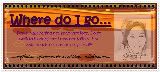 3 Comments:
David Funk said...

January 23, 2010 at 8:06 PM

 

Thanks for posting my badge to your list here, Cacai!

Cacai M. said...

January 23, 2010 at 8:23 PM

 

You're welcome D! Of course you're one of the best eh.. Thanks for being here my friend D! :-)

Sam said...

April 28, 2011 at 5:43 PM

 

Hello! Cai I've done adding your link to both of my blogs. There's No Place That Far (www.freddysamsc.com) and Snap Shots and tips (www.photosandtips.com) Thank you so much and keep in touch.