February 24, 2010
This is a Sponsored Post written by me on behalf of Cryo-Cell International. All opinions are 100% mine.
When I heard about the powerful quake that struck Haiti few months ago, I was devastated. My heart was so saddened because I can feel the pain that the tragedy brought. I saw the tears, the hopelessness, and the shattered innocence of the kids who were left behind. It was a very sad tragedy.
Few months had passed but Haiti still need our help. The children of Haiti need our help. Cryo-cell is extending their helping hand through their program "Save the Children: Haiti Relief Fund". Throughout February, Cryo-Cell will donate $25 from each enrollment.
You can safeguard the health of your child and family through cord blood banking. By banking your child's cord blood with Cryo-Cell, you will also be helping save the children of Haiti through Cryo-Cell's Haiti Relief Fund. So,
enroll now
and lend your hand in helping rebuild the future of the children of Haiti.
Cryo Cell International is the most established family cord blood bank. Cryo-Cell is a cord blood bank that offers a history of excellence in expert processing and storage of cord blood stem cells. They have a strong reputation and has been in the business since 1992 helping more than 175,000 families worldwide preserve their newborn umbilical cord blood for potential use against many diseases.
September 30, 2009
The above image makes still wordless for me. That was taken during the typhoon Ketsana (Ondoy: typhoon's Philippine name). Isn't this wordless to you? More of my

Wordless Wednesday

entries in

here

. For other peeps entries are

here

.


September 28, 2009
posted by: Cacai M.

It's Music Monday again. Now, here's my music journey for this week in honor of the flood victims of typhoon "Ondoy" (Ketsana - international name) in Metro Manila, Philippines(my home country) especially to the unfortunate ones whom their souls is in heaven now. Let's pray for them and if you have some help to spare for the victims, please give some for foods, clothings, or basic needs. Every penny counts. You might like to visit legitimate donation sites for your help. Kind folks are always blessed! God bless to the donors.

(
music video source
)
Below is the image video scene caused by Typhoon "Ondoy" or Ketsana which lives and basic life stuffs devastated.
Thanks and if you like to more of my Music Monday entries, it's

here

. Have a blessed Monday! Again, let's together help or pray for the victims
.
Come join Music Monday and share your songs with us. One simple rule, leave

ONLY

the actual post link here. You can grab this code at LJL Please note these links are

STRICTLY

for Music Monday participants only. All others will be deleted without prejudice.







September 02, 2009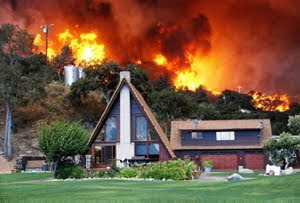 one of Los Angeles, California latest blaze of wildfire pictures(

photo source

)
I don't know how I react with this picture. Should I have to be scared or should I have to be amazed of the beautiful house? Am wordless ,

are you?

This is one of the images of the latest blaze of Southern California wildfire. So far, it's okay now. Firefighters already broke the fire, yet, it is still prone to spread if the wind will blow. I hope all will be well already.