September 02, 2009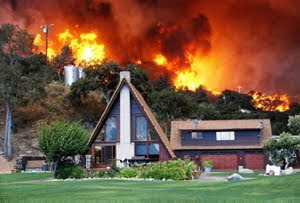 one of Los Angeles, California latest blaze of wildfire pictures(

photo source

)
I don't know how I react with this picture. Should I have to be scared or should I have to be amazed of the beautiful house? Am wordless ,

are you?

This is one of the images of the latest blaze of Southern California wildfire. So far, it's okay now. Firefighters already broke the fire, yet, it is still prone to spread if the wind will blow. I hope all will be well already.


15 Comments:
September 2, 2009 at 9:33 PM

 

sad to hear about that fire in south cali..

September 2, 2009 at 9:34 PM

 

the house is really beautiful.. buti na lng di sya inabot ng fire.. whew

September 3, 2009 at 1:22 AM

 

oh my.. katakot.

got news for u ganda.. i got a new baby. hope u cud visit her too. muah muah! http://ghieganda.blogspot.com/

September 3, 2009 at 2:38 AM

 

it's so dangerous

September 3, 2009 at 9:34 AM

 

Ka-tsada ba danhan nga pic Beck. Mura man ug dili tinood. But the reality is i felt sorry for what had happened. There many people lost their houses and even some lost their lives. I hope rain will come soon so that all those dry area will become wet. Para naman hindi magkasunog agad. It is super hot kasi dito kaya madaling magkaroon ng sunod.

See u senyora sa saturday. Ingat mo duha ni Donald. Thanks for everything.

September 3, 2009 at 2:34 PM

 

nako nakakatakot naman ang wild fire dyan sa south CA...
dito naman ang nakakatakot eh tornado...

September 4, 2009 at 12:15 AM

 

fires are fiercest fiend, they say and its true. grabe ilahang catastrophe noh?

btw i have a tsg for u here at http://www.mymoods.net/2009/09/strengthen-friendship-award.html, i hope ul post this cai, thanks in advance

September 4, 2009 at 8:49 AM

 

when i've read the news online, i got scared. it was a terrible fire! i feel sorry for the victims.hope it won't happen again.

hugs 'cai!

September 4, 2009 at 11:47 AM

 

oh gosh..so scary....layo bamo sa wildfire madam sis?

kumusta na madam sis..agi ko dire kadali...thanks for being the number one dropper on my other blog....have added your button on the sidebar....:)

September 4, 2009 at 9:54 PM

 

Kanindot sa balay... maayo na lang kay wala naapil.
Kaluoy sab anang Cali, kada tuig man na mahitabo. :(

September 5, 2009 at 5:23 PM

 

Oh man...that is horrifying.
I have been following the California fire and it is not good at all.

The people in California are all in my prayers.

September 5, 2009 at 7:43 PM

 

I hope they get all the fire under control soon. I fill so sad for all the people that have lost their houses because of this.

September 6, 2009 at 2:49 AM

 

sana tumigil na ang sunog

Can you visit my site today please? Salamat ah :) http://www.kumagcow.com

September 6, 2009 at 8:10 AM

 

Hola my friend i hope things are going well with you. I have a question for you please. How did you get your posts to show up on blog lines. I just subscribed to your feeds but would like to get my posts there also but dont know how to do it. Could you help me in this matter please. Thanks.

September 7, 2009 at 5:17 AM

 

aw grabeh naman ang sunog na yan buti nalang at di nadamay ang bahay na yan. eh sa likod lang pala ang sunog. btw the house is so cute and colorful i think dahil sa effect ng sunog.