July 12, 2010
Hi folks, how are you today? I bet everything's doing well and that is great! Just get into the happy journey albeit of the trials we experience every now and then. The sufferings are just spices in life so we would know how to appreciate what we have. Just like this sweet potato pie below. It needs to bake it good and mix well. Its ingredients should all gathered together prior to preparing or putting it in a pan. It should have to be like that or else you cannot taste the sweet potato pie you wanted to.
Oops! Am I serious enough? Just currently wanted to eat some sweet potato pie and then off to go to the post office. I have something to mail, return that is. Ah.. sweet potato, I want you now badly. Wanted! ;-) How do you like your taste bud to try something you do not like or you crave for? How do you spoil your craving? Err... I have to go now. See yah later potato pie. :)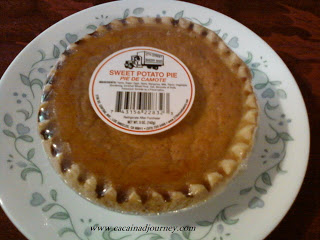 1 Comment:
Dhemz said...

July 12, 2010 at 12:25 PM

 

ayay! nay nangala ug potato pie...ehehhehe!

d ko mahilig ug pies madam sis....:)

salamat sa dalaw madam sis...thanks pod sa comments...sensya na karon lang ko nakabalik...busy kau ang life sa yaya...ehehehe!