March 27, 2010
I want to say "Have a great weekend" to you folks.. tomorrow is Sunday and for some other place this day is already Sunday so it is still weekend or for other people who believe that Sunday is the first day of the week, then sorry about this. For me, I consider Sunday as a weekend and a rest day. Time to go to church and just be lazed, bonding with family and friends. :) So then, have a good one all!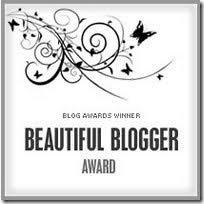 Beautiful Blogger Award
I also want to say thank you to David Funk of
Basic Bloganomics
, sis Liezl of
Bloguardian Hellsite
: OVERCASHED
, sis Ace of
Happy Home Working
and mommy
Carinamodella
for giving this beautiful
award
to me. You guys are awesome. Both of you are handsome and pretty like the award you gave me. Sorry for the late post, and I know you understand me. *kisses*.. :) The three of you always be in my heart forever as a friend of mine. Thank you for the genuine friendship you guys given to me and promise am keeping that and reciprocate of the goodness
you showed to me.
Thanks
a lot for the friendship, forever and ever. :) To complete the award, I have to list seven things about myself and it's
here
. Thanks again guys.. ~hugs&kisses~

Have a great day all! Smile.. :)
6 Comments:
March 28, 2010 at 12:52 AM

 

i just found your blog, great one. have a good Sunday tomorrow

March 28, 2010 at 3:47 AM

 

Heya Cacai! Thanks for the backlink. Mwah!

March 28, 2010 at 7:57 AM

 

Thanks for posting this award. You're definitely a beautiful blogger and friend to many!

Hugs and kisses for you my friend!

March 29, 2010 at 2:53 PM

 

kumusta ang imong weekend madam sis?

March 30, 2010 at 12:19 AM

 

did you enjoy your weekend ? i hope it does. yeah, weekend is also a restday for me. hihi

March 30, 2010 at 12:07 PM

 

Thank you "Mom Daughter Style".. and welcome in here.. :)

@ Lizl, you're welcome... :) and thank you too.. ~hugs~~

@ D, heheh.. thanks my friend.. ~hugs~

@ madam sis and jenifaa, I enjoyed my weekend much! I really had a blast.. thanks for being here guys.. muahhh!

:)