December 21, 2009
posted by: Cacai M.

I am blessed to have friends both online and offline. Yep, I got packages. I said packages because it's two of it. One package is for me and my Dear Hubby from Analou and Dennis. I got it after I shopped for Christmas cards, that was 16th of Dec (Wednesday). I was stunned seeing there was a package at our door and named. Analou by the way is my blogger buddy and has authored "The Shadow of Our Pasts and the Silhouette of Our Future", and "Analou's Place to Remember" blogs. I was the one introduced her to blogging and am glad she loved it as a way for some comfort. Well, as I said it's one way to find comfort sometimes and some socializing too so she won't missed much her family in the Philippines. Okay back to the gift, I recalled I mentioned to Analou a bit that we will have an exchange gift but I wasn't able to told her really. I just cut it off thinking that it's crisis nowadays. So, we can both save money :-). But she/they made it and there it's my/our conscience not to give back :-).. so me with the help of my hubby dear(financially) shopped and mailed it two days ago. The postman said it will arrive last day. Hopefully it did. :-) Below is the package content.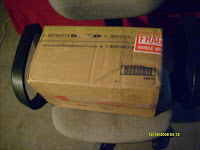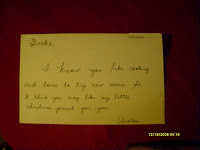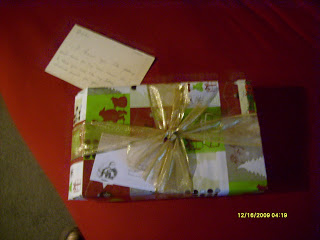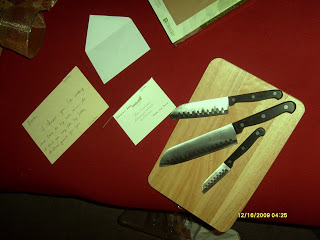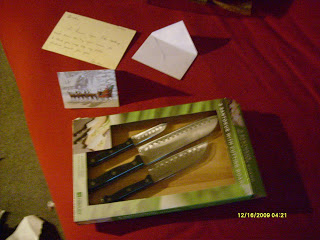 This is our first Chrismas package as a couple. Thanks An and Dennie for the gift. We love it. Now, we have a lot of kitchen knives already added to our kitchen tools. You really know! muahhh!
Anyway, the other package was from Dhemz, my other blogger buddy. She surprised me with a beautiful purplish sleeveless with a family picture and newsletter. I love it and I will show you on my next post. Have a good day!

2 Comments:
Dhemz said...

December 23, 2009 at 7:00 PM

 

my gosh...ka bongga kaau ug gift si An...d man ta ka afford ani...ehehhehe! sos magamit jud kaau na nimo madam sis...labi na nga magluto ka diha...eehheheh!

Cacai M. said...

December 24, 2009 at 4:16 PM

 

heheh.. lagi.. magamit jud nko.. nice ky labon lahi ni'g style pod ni among panggutaray dre.. collection.. :-) Thanks madam sis sa comment of An's gift.. muahh!