August 17, 2009
Ooh Branson, how I love thee! Summer fun has just started yet it's not too late to get a vacation at Missouri, Branson! To stay at

Hi

lto

n Promenade at Branson Landing and t
he

Hilton Branson Convention Center Hotel

or either of each is awesome for this summer vacation. Families and lovers being around its community at Branson's championship golfs courses, lakes, museums and 49 live entertainment theaters are very fun
to go into. Ooh well, have you planned yet? For me, I(with my hubby) just made an itinerary plan to have a vacation in Branson, Missouri this summer fun.
But before that, let's take a look for the two hotels of Branson that we will have to decide which one of i
t we will have to stay in.
Situated within the electrifying entertainment capital of the Midwest in Branson, Missouri, the Hilton Promenade at Branson Landing and Hilton Branson Convention Center Hotel offer guests access to shops, bout

iques, restaurants, a river walk and other attractions. The new Payne Stewart Golf Club, managed by Hilton, is close by and features hole after hole of breathtaking scenery.





Located in the Town Square of Branson Landing, the Hilton Promenade at Branson Landing is an ideal location to enjoy all that the entertainment capital of the Midwest has to offer. The Hilton Promenade at Branson Landing is walking distance to the Branson Convention Center. Many of the guest rooms offer spectacular views of Lake Taneycomo and the fountains at Branson Landing. Shop, Dine, Play and Stay at the Hilton Promenade at Branson Lan

ding.

Located in Branson Landing, directly off Business Hi-way 65 among Lake Taneycomo and historical downtown Branson.





The Hilton Branson Convention Center Hotel is within walking distance to historical downtown Branson. Branson Landing is a new 110 store shopping and entertainment venue.



I hope our itinerary of things to do to experience the amazing and spectacular Branson will be soon realize
. With that, we already created our four days stay in one hotel
I mentioned. For the first day, we will have to relax a bit, and roam around the hotel area, then, at evening we will have to watch the Branson Landing Fountain that it's known for dazzling water shows with light, fire and sound comes together to entertain and enhance our soon-to-be experience in there.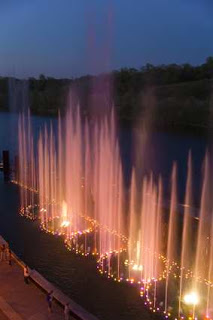 For our second and third day in the community, we will going in town, of which entertainment and attractions awaits whether we will stay at Hilton Promenade of Branson Landing or Hilton Branson Convention Center Hotel. Since Branson has ongoing events for everyone this summer likes exciting concerts by Lost Highway, Firefall and Big Smith at the Branson Landing, the 21st Annual Downtown Branson Fiddle Fest, Silver Dollar City's fun-filled National Kidsfest and Southern Gospel
Picnic, and much more then this will surely be very fun for us. And for the fourth day, I guess we(hubby and me) will go for movie and after, will go for swimming at hotel's indoor pool and hit the spa or jacuzzi before we leave for home. With so much to offer, this exciting vacation community is perfect for everyone! How about you, have you check the great deals and packages this summer fun at Spectacular Branson? You m
ight better check it out and plan now before its limited offer expires.
0 Comments: