August 14, 2009
posted by: Cacai M.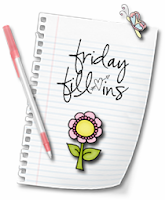 1. When will I can go to Paris to kiss its foot(lol) ?

2. Mtv Jams tv show was the last good book I read or movie I saw or tv show I watched.

3. Everything has its beauty but ugly don't have(heheheh).

4. Beef pot roast is what I had for dinner.

5. I'd like your butt spanked(lol).

6. In here is where I want to be right now.

7. And as for the weekend, tonight I'm looking forward to burn the music which hubby wants , tomorrow my plans include listening music, grocery and household stuffs shopping w/ habibi and Sunday, I want to relax !

For my other FF, click here . You can also locate at my Friday Fill-in or Just for Fun Label (Labels widget located at the right corner of this blog. By the way, if you wish to join Friday Fill-ins meme, just click the logo located at the left corner of this blog widget named "I Joined". Have fun!


10 Comments:
August 15, 2009 at 12:02 AM

 

galing naman my niece .,..I want to join someday pero need to think of it..

please vote for me and help campaign for two days na lng ... here is the link

vhing4all-il-ph

on the middle right sidebar .

thanks thanks hugs & kisses.

August 15, 2009 at 9:49 AM

 

paris? sige kita nalang ta didto ha hehehe

August 15, 2009 at 1:25 PM

 

i would love to go to Paris too...i would like to see the light house hehehe...

limota kau nkug post ani oi...ghehe

August 15, 2009 at 8:12 PM

 

lol..dont kiss at paris foot la..dirty lo

August 16, 2009 at 5:18 AM

 

hello cacai, curious lang talaga ko.. ano bang ibig sabihin ng meme?

August 16, 2009 at 10:52 AM

 

Ahh paris mn jd ky mo kiss ra hehehe. korak ka diyan cai mga bati fis way beauty labi na ug bati kinaiya p jd, back stage beauty

August 16, 2009 at 9:31 PM

 

I would like to go to Paris, too... Morag kita tanan man gusto di ba. :)
Then, adto dayon sa Venice, the City of Romance. :)

August 16, 2009 at 11:03 PM

 

ala na kc tagboard mo eh ...lagi ako busy these late days. kaya drop ec lng ako konti na nga lng drops ko . nakita mo bihira na ako nag a-updates ng mga blogs ko . malapit na kc new year nila d2 september last week kaya busy cleaning everyday na ang tita.

vote ka uli doon one week daw un eh. thanks hugs!hugs! ingat....

August 17, 2009 at 12:40 PM

 

Hey there my dear friend. Love your Friday fill in. You sound a little kinky spanking peoples butts hmmmmm LOL. Have a great week my dear.

August 17, 2009 at 6:58 PM

 

i wanna go to paris too.. but i wont kiss its foot.. LOL!!!