August 12, 2009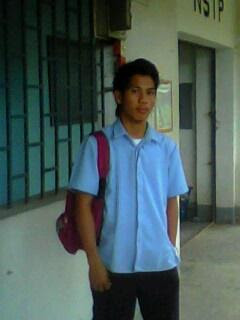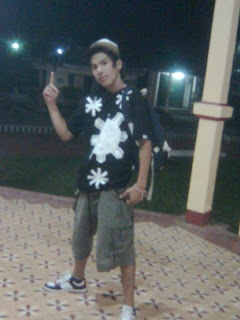 my brother Ling2x
That's my brother Ling2x. Actually he is my step brother(father side) but we treat each other as sibling without any words that we're just half-sibling and besides my step mother is just as like my true mother. What's the difference when each other don't believe in half thingy only, right? What matters is that each other treat respectfully and views that am older than him. He's also a dancer of his friends group. And he's under my observe right now with his studies since am one of his support through my little income(thanks to my husband that it's okay with him). He is currently studying in CDO City in one of the leading school. I make sure that I can give him the tuition fee every month that I promised after came to me and told that he likes to continue his study and he likes me to help him. Anyway, it's just two years course (oops! It's 4-years but has advance subjects because he had shifted after finished one-year from the previous one though he got good grades, it's just that he likes this course better) he took by his own choice. So hopefully he would finish and attain what he needs in life. Keep going Ling!

8 Comments:
August 12, 2009 at 11:35 PM

 

Lola, your a blessing to your half-bro. Super touch jud ko kay nice ka kaau nga sister sa iyaha. Ipadayon na lola. One day makita ra nimo ang results.

God will bless you more as you blessed others. Happy day lola...

August 13, 2009 at 1:04 AM

 

Thank you for the uplifting message Lola.. lab yah!

August 13, 2009 at 8:56 AM

 

I did not realize Beck nga dako naman diay c Ling2x. Your one of a kind because you help your family without hoping for a return someday. As far as I know Ling2x is a good kid. Keep it up Dhay Beck. Ingat always.

August 13, 2009 at 9:27 AM

 

Hello best bud An, nope am asking for a return someday.. nyahahah.. let's see.. bitaw oi, I hope he will get what he need and hope that he will do what he promised. After all, family is the basic unit of society, so one will be a help to each other provided that one will keep each other's promises and work hard for it. Ooh my gosh.. am working my butts offin here An.. hush! And thanks for the sweet message.. og mao lagi oi ulitawo na akong manghod.. ayo2x dinha pod An.. hugs!

August 13, 2009 at 10:22 PM

 

Wow sis, gwapo man diay kag brother..although half brother ra mo it doesn't matter..basta naa respect with each other..its nice knowing na you are being a good sister to him...kay pag maau man ang elder sister, maao sad ang pgrespeto sa mga younger siblings...

August 13, 2009 at 11:08 PM

 

Thanks sis Chie.. yeah he's respectful to me though we have some little word fights before but more on we care on each other especially now that we are old already. Thanks a lot for that sis hah.. and duha ni sila akong brod and 2 sisters sa akong father side--ako ang eldest nila. Og dancer ni xa sis--hip hoppers daw waz mn pa nuon ko kita nagsayaw sila in person but pics naa. Have a nice day sis! again, thanks.. hugs!

August 14, 2009 at 12:35 AM

 

I also half brothers and sister both on my father and mother side..hehehe..medyo magulo family tree namin..ayy di pala tree parang family vine..

He is indeed blessed to have you as his sister Cai..Continue being a blessing to him..

August 14, 2009 at 12:54 AM

 

woi kabuotan nimo madam sis...how sweet of you ikaw man diay nagpa skul sa iya....:) sos ako tawon wala man tawon koy ikatabang..ako pa man gani mangayo..salbahis ra kaau ko..nyahahha..sige lang puhon mka human ko ug skul...:)

woi madam sis..when man imo class diay mag start? ako kay karong 3rd week...my gosh...hapit na...ehhehe busy nasad ko ani..:)

asa man sya nag skul diay?