May 18, 2009
posted
by

:
Cacai M.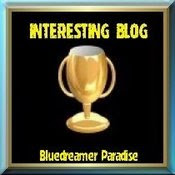 My new friend here in blogging world Crisiboy of
Jologs Na Yuppie
gave me this one and I find it cute and some kind of interesting is his
award
to
me
.. hemmn.. Thanks Cris, I love the award you gave me! Thanks and may you always go back here in this blog of mine and keeps you always interested. And also David of
Basic Bloganomics
blog, my ever good friend gave me this one too. Reya of
Fragments of Thoughts..a piece of life
, and Momma Beth of
Mommy Passionista
blog is two of my good new friends that handed this to me too. I thankfully blessed of this co-blogger friend of mine for the awesome awards he gave me as well. Thanks my two friends! God bless you more!

********
Thank You

FIRST COMMENTER
:
David Funk of

Basic Bloganomics
2 Comments:
David Funk said...

May 18, 2009 at 7:13 PM

 

I'm very blessed to have a beautiful and wonderful friend as you, too. Thanks for posting this and for being a friend!:)

Bill said...

May 18, 2009 at 8:23 PM

 

hi Cacai congrats you deserve all the awards that you get. Have a great week ahead.