January 27, 2010
posted by: Cacai M.

I am almost wordless and hungry too. Would you believe I didn't eat yet beginning the morning up until this time three o'clock pm? Yep, I am like this if I have something to do and finish---I don't like to eat and am not that hungry either. I know it is not good but sometimes I have to sacrifice myself or else I would go back again (the work I do) from the beginning. Anyway, I ate last night for a regular dinner (mostly I have regular meals) and had fruit salad made of fresh banana and red apple then tossed it with my current favorite mix -- the peanuts, and of course nestle cream and condensed milk. Yep, peanuts ( lot of peanuts on it) I just let my taste buds got what it desires.. :-) And ooh, I just found out that sweets make me survive the sleepiness thing. Thanks to the sweets or the dessert I made, I got what I sacrificed or studied for --- I tweak my template, made my first badge and favicons. The furious slow internet connection added to the frustrations of making it but all was paid off. By the way, do you like the color and its combination? What about the favicons and badges? Whatever it is, I love my own.. heheh.. joking aside... :-)

And now, I am craving for this goat curry (image below) with rice and beans, and collard greens then paired with coke or an apple juice or lemonade. Hemmm.. I gotta go and find something to eat because I have a so much work to do yet sad to say too little time. Ooops.. bavosh.. gotta go now.. I have to feed myself. :-)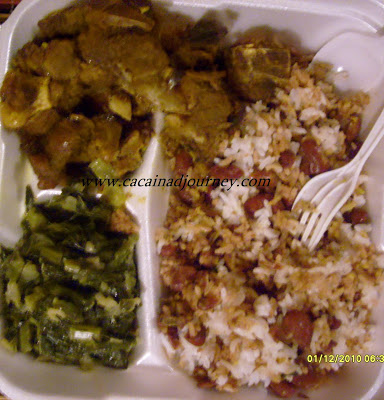 goat curry, rice with beans, and collard greens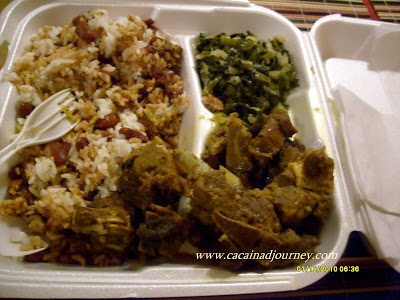 Have a fulfilling Wednesday folks! Have a good day... :-)

February 11, 2009
posted
by

:
Cacai M.
Demcy Apdian Diaz

- Dhemz
for short as her friends fondly called her. This kind woman is the one who helped me on this blog header and template. She can be seen on her site
demcyapdiandias.blogspot.com
or in

MY LIFE PERCEPTION AND INSPIRATION

if you wanna know her more my friends and readers.. She's the one who helped me on my blog template and header as I said earlier. The color was being helped with
Rechie
and me(heheheh) for she doesn't want not to consult me before given to me. Thanks my friends. You help me beautify my site. Kudos to her and to Rechie of
chuchieshideaway.blogspot.com
or

CHUCHIESHIDEAWAY

.It's some kind of blog makeover to me. They also helped me of my blogging journey. They're there when I need them at their most convenient time. Our friendship grows too because of this blogging. I just wanna share my gratitude to them for they deserve this. And also to you my readers and friends for following my posts along and believing me. Thank you- this is from my heart.

January 26, 2009
posted
by

:
Cacai M.
After a couple of attempts of beautifying my page in here , I finally made it. To tell you guys, it's hard... But now I will have to give you a tip on how it was being made for I am done with it. First, you will have to decide whether you will have to purchase a layout, or you may have to get a premade layout for free from some Layout and Template websites but you will have to thank them for they made it through hard work too and to do that, you need not to erase the premade note at the end of the layout that you have. For me, I just get this for free but the header was made by my friends
Dhemz/Demcy

of
demcyapdiandias.blogspot.com

and thank you too to

ourblogtemplates.com

and to her, and to my friend

Rechie

of

chuchieshideaway.blogspot.com
too. Thank you friends! I really appreciate the help you've given to me. Kudos! To continue about the tip, save the original template first and the widgets or gadgets codes separately either in notepad, Microsoft word document, or in draft section in yahoo mail. Then, I tried to change my original template Thisaway Rose to Minima and then save. I deleted again the templates and upload the template I liked. However, it can't upload and there's an error message appear and bxx... thingy. I read a lot in the help section as to what the host said, and hola! I got it, it' s just need the private data to be cleared- cookies, cache, saved passwords, authenticated sessions, and I even checked the offline website data, then cleared now- that was in Firefox browser. For the internet explorer, click the tools in the right lower side of the window and on the general tab, click the delete on the browsing history section and that will delete the temporary files, history, cookies, saved passwords, and web information then, click ok. After that, close all the windows and restart your computer. Then go back as what you have done the first time. And that's it, it's as easy and as hard as that (for me). I hope it's not as hard as mine if you will encounter this for this I give you the tip for easy way. Anyway, if you have any question, feel free to ask me anytime for I will check this blog every now and then. So long! (~_~)