June 01, 2012
You may already know that my taste-bud has already like eating fresh vegetable salads which is a no-no for me before. I could not content my happiness that very first time I love to eat it. It seems a miracle to me, but it already happen. Whew! Now I am loving it!

Ever since I love vegetable salads, I haven't eaten all my share of exactly the same of what I had before. And you bet, I am so happy about it. Thinking of learning and loving what I can taste and eat just amazes me. My thoughts exactly. Ah, this must be because of my dieting huh! If such, then I must be glad I bump into this journey. Ooh yes, who would not like being a mother? I say such because I gain a lot of weight of having my baby girl and I never regretted even a very little. In fact, I love it much. It's just that, I have to loss weight to which I did and continue doing or maintaining at least. :-) I am just two pounds (2 lbs) away from my pre-pregnancy weight now after having a crash diet to which I lost five-six pounds (5-6 lbs) so not bad, isn't it?

And now, if I don't like eating the pure fresh vegetable salads or the ones that we used to buy in our favorite food chain for such, then I just have to buy the pomegranate dressing, my favorite ever. I now have the buddy for such. Yay! :-)

Have a great day everyone!
May 30, 2012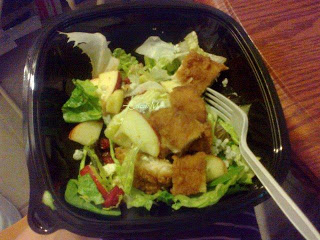 Before I eat this all, you can now get your share. :-)
Sometimes it is funny how taste buds change. For long time, I never ever like eating raw vegetable or a salad like this. But this time, my taste buds changed. I am longing to eat of such already even without the pomegranate salad dressing (my fave dressing ever). This time, I have the fresh lettuce veges with spinach along with fresh cranberries and the crispy apples with chicken cubes on top. I ate it all except the three pieces of chicken. Wow! I cannot believe that I ate it all, this is my first time. Whew! Happy me. I no longer need a rice for my meal. My tummy can now stand without a rice in my daily platter! What a great news from my tummy and the taste-buds. Ha!
Image above of some of the lettuce salad had already been eaten. I think one-fourth (1/4) of it. I cannot imagine how I loved it to which I ate it all. :-)
And the diet continues. Smile. :-)