July 01, 2010
Yes, just a doughnut, a big tasty doughnut from my DH favorite convenience store (and became my favorite 24 hrs store too). While doing my thing in the "lappy" computer one day, the husband told he wanted to go out and buy some drinks and other small stuffs. I just then told, I wanted to go with him and hurriedly dressed-up. Off we went to a certain store. I actually did not knew that such store sells doughnut but my yes caught it up and there you go, I got four of different artistic faces but of same taste, sweet. Ooh well, do we have a sour doughnut? Ha!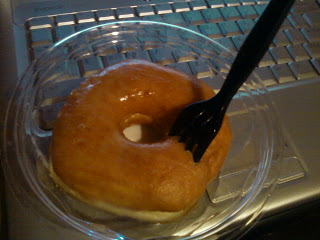 Some time in a day, we just want to eat something sweet and even sour, bitter or salty but that time, I wanted to eat sweet. Yes, so sweet just like what I had and it made my day. Just a taste of doughnut. And it made me going, eh?! ;-) Yes, I got to do some backlog and chores which it needed to be finished but of course with meals and a lemon juice. What a day (but fulfilling one)! :) Have a fun-filled food trip this Friday!
17 Comments:
July 1, 2010 at 10:45 AM

 

a doughnut and a hot coffee with condensed in the morning is superb..YUmmy...

July 1, 2010 at 11:04 AM

 

we love donut, but we don't eat much of it...our son gets to eat one every time we go grocery shopping para di manggulo hehehe....

July 1, 2010 at 11:14 AM

 

this reminds me of DH, he came home from work one day and hand me a container of doughnuts. It tasted so good, but bad for my health...lol. As a matter of fact, we all enjoyed it...:))

July 1, 2010 at 12:25 PM

 

i like it eaten with hot coffee. sarap !

July 1, 2010 at 1:00 PM

 

It's always very convinient to live near Convinient store, lol!

July 1, 2010 at 3:38 PM

 

Doughnuts! I bought a box of 15 yesterday from Dunkin (we missed it really!) ayun 3 na lang natira, 4 lang kami who shared :D

July 1, 2010 at 4:38 PM

 

At most time, I crave for something salty. I never had a sweet tooth, I guess.

My FTF post is up

HERE

. Happy weekends!

July 1, 2010 at 5:15 PM

 

July 1, 2010 at 11:37 PM

 

i seldom eat doughnuts, but it's perfect with my brewed coffee. i usually get cinnamon rolls instead of doughnuts.:p

July 2, 2010 at 12:17 AM

 

sarap naman nyan cacai..tapos may coffee..or green tea.. aww...

http://newlywedscravings.blogspot.com/

July 2, 2010 at 12:19 AM

 

love doughnut with coffee..hmmm, happy weekend!

July 2, 2010 at 7:16 AM

 

I love to eat with cup of coffe, superb love it.. watch the diet hahahaha!

July 2, 2010 at 7:56 AM

 

agoy may paborito kalami ani lola.... korek si analou with hot choco ako pares anang doughnut sus perfect jud.

July 2, 2010 at 4:16 PM

 

ayay! donut man diay iyang entry this week...naa pa diha madam sis? unsa nga convenience store ang inyong suki diha? ehehehe!

July 2, 2010 at 4:34 PM

 

waaa i love donuts pero arang ka tam is man ang donut dire mareng...

anyway ganahan si andrea sa imong layout kay naa bubbles bitaw... sigehan nya ug huyop waaaaaa

July 3, 2010 at 6:07 PM

 

i miss doughnut..and i miss food trip..

July 6, 2010 at 4:17 AM

 

naku, ang dunkin donuts ang pinaka fave ko... dun ko pinaglihi si alyssa... hahaha!!! yan ang gusto ko laging pasalubong sakin...