May 18, 2010
This is a Sponsored Post written by me on behalf of Dove Ice Cream. All opinions are 100% mine.
Yes, Dove Ice Cream has launched a "My Mini Moment" contest and you my fellow women who are in 48 United States and DC are invited of taking part of this (this contest is open to this places only). Who knows you are one lucky individual who will win one of three (3) sensational mini-grand prizes, to wit:
a mini-getaway to Napa Valley
Spa services for a year, or a
mini-home makeover
To enter, women need to submit a photo and short essay at DoveIceCream.com/myminimoment by June 7, 2010 (include attached photo of contest microsite).
You won't be worried of eating this guilty-pleasure Dove Ice Cream Miniatures because it only has 70 calories each, and feature full indulgent ice cream wrapped in real Dove chocolate making them the perfect treat. You would want to try the new decadent Café Collection which features Java Chip and Cappuccino Flavors.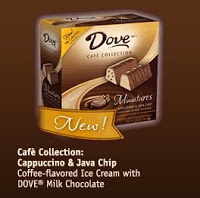 "Me-time" is important to any homemaker including me. I used to have my lonesome moment in my computer or just listening to a song over my portable DVD player with chocolates in my hand munching while listening to my favorite songs whatever suits my mood. Sometimes I just indulge myself sleeping for a long period of time whenever I want to exercise my "me-time" .
Unsurprisingly, "Me-time" is important to the Dove consumers, so DOVE® Ice Cream Miniatures conducted a survey of over 400 mothers and an astonishing 70 percent of these ultimate multi-taskers are taking time for themselves each day. With this, the "My Mini Moment" contest celebrates these cherished moments.
Everyone has their own idea of what their favorite mini-escape would be. That's why DOVE® Ice Cream Miniatures has given you three luxuriously indulgent choices.
1 Comment:
kat said...

May 20, 2010 at 8:32 AM

 

oh naa diay Dove nga ice cream nyahaha..ako shampoo, lotion kay dove man hahaha karon kay naay pagkaon na diay? hehe

Anyway Cai, ask lang ko giunsa man nimo pag redirect ning imong blog from blogspot to dot com kay nabasa man gud nako sa blogspot nga nag ticket ka about rdirecting from blogspot to dot com. 3 days naman gud ron since nipalit ko ug domain sa godaddy, nya na set-up na nako tanan , ambot lang kung tama ba to ako gibuhat about CNAME, nya hangtud karon wa ma japon mo appear ako new domain oi...gi unsa man nimo pag buhat..tudlui ko be hehehe