May 21, 2010
Though it is only spring time, yet sometimes it feels like it's already summer. I can just imagine how would the hotness of the weather be when it is already summer time. Ooh well, that is why summer because of its hotness. Ha! Alright, since one day I felt the weather's hotness already and I felt like eating halo-halo and I had my ingredients, then I made some (actually just for myself because hubby that time was in his work, I was alone at our apartment home). At first I was just thought of making my own banana-peanuts dessert recipe and add just some chocolate mousse yogurt (99% fat free) but it ended up putting some cantaloupe, haagen dazs rocky road ice cream and red grapes over it. So all in all, my ingredients were: banana, peanuts, cantaloupe condensed milk, yogurt, ice cream and grapes. Yep, I put 99 percent fat free yogurt but my taste bud won't accept that time without any sweetness aside from ice cream and other sweet fresh fruits that's why I put condensed milk on it.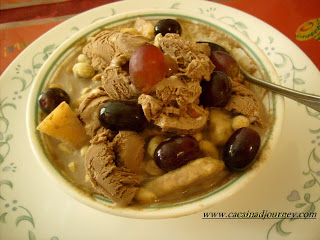 So an image above speaks it all. I had my food/ fruit trip really good that time that in the end I cannot eat that small bowl of such above. Haha! Too much imagination that makes me look greedy eh? Haha! Lesson learn.. *winkz* If you're with me that time, we can then had half and half but where we're you at that time? ;-)

So then, have a happy Food trip folks! Smile... :)


20 Comments:
May 21, 2010 at 2:29 AM

 

eww..kalami sa ice cream..hehe ug ka sexy sa ng kanta..bitaw no? sa amoa diri ay kay init na kaayo..then mokalit ra sad bundak ang ulan..lay klaro! hheheh

musta na cai!

May 21, 2010 at 3:07 AM

 

ah maka laway man sad ng imong halo.halo Cai hehehe..chocolate pa jud ang ice cream waaaa...

May 21, 2010 at 6:27 AM

 

Sarap ng halo-halo but I'm not ready yet,malamig pa dito eh!

May 21, 2010 at 7:47 AM

 

Love your halo-halo. daming sahog. Happy weekend!

May 21, 2010 at 8:14 AM

 

wow home made and healthy halo-halo.... i miss the halo halo sa tabi tabi kadtong naay gulaman waaa

May 21, 2010 at 10:52 AM

 

Wow Marz! Mukhang masarap naman yan. Mine is up already at www.lourdesmia.com :)

By the way, I have a tag for your here: http://www.mommyrubz.com/50-random-questions/ Thanks!

May 21, 2010 at 12:21 PM

 

Kakaibang halo-halo itesh! hehehe...

May 21, 2010 at 12:25 PM

 

that looks yummy, Cai, ma try nga din yan minsan :-)

May 21, 2010 at 12:36 PM

 

Ano ang bitaw? Nagusyuso pa eh lol.

Sarap naman ng halu halo hehehe..

I am late with my entry but hope you can still take a peek at

Spice up your Life

May 22, 2010 at 5:18 AM

 

hehehe! mag-laway man sad ko sa imong description oj...

happy weekend!

May 22, 2010 at 12:42 PM

 

wow..patilawa ta aning imong halo-halo sis bi..it looks yummy...!

May 23, 2010 at 7:55 AM

 

May 23, 2010 at 10:29 AM

 

I will take two large orders of your Halo-Halo. You could get rich selling this. ;o)

May 23, 2010 at 1:36 PM

 

That looks so yummmy!!!!!!!!

May 23, 2010 at 4:30 PM

 

tsang kalami sa imung halo halo, naglaway ko. bisag tugnaw pa diri lamoyon dihapon na sa akong mga buayang dako ug gagmay.

May 24, 2010 at 1:08 AM

 

That's loaded! LOL! At least you get to experiment even if you weren't able to finish everything.

May 24, 2010 at 3:21 AM

 

wowowow!!! kaloka! napaka sosyal ng halo halo mo marz... kakaiba!!! at bakit naman nagfa-fat-free ka pa? eh fat free ka naman na!

MINE'S HERE

marz...

May 24, 2010 at 5:29 AM

 

I love your halo-halo version, bagay na bagay sa mainit na panahon dito :D

May 24, 2010 at 11:46 AM

 

Very delicious baje. Cge tungae ko sunod ha? Maybe I can do the same here at home. I have a strawberry sorbet,grapes, banana, pear, mango, condensed milk and more...more....Kalameeeeee...

May 24, 2010 at 8:57 PM

 

omg....madam sis, naa pa diha? ngayo unta ko anang imong halo-halo...murag lami man kaau tan-awon woi...daghan kaau ug sagol...ehehehhe!