November 14, 2009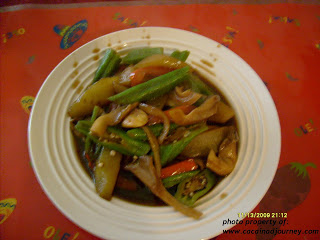 cooked stir-fry mixed vegetables
Yesterday, I felt like being vegetarian. Actually, I am more on vegetables but when cooking it there should even just a little meat in it especially that hubby wants me to eat something meaty since it is good source of protein which our body needs. Even though the pork is already defrosted and ready to sliced, but I was more on vegetables all. So, it ended stir-frying the okra, chayote, and mushroom with the spices onion, red bell pepper, and garlic saute with soy sauce. The procedure is just easy! After washing all the veges and fresh spices, cut it all length-wise. Then heat-up one teaspoon of olive oil (or any kind of oil), then brown the onion and garlic, then add the red bell pepper. As soon as it's already okay, put the chayote. After it boils put the mushroom then okra, then boil it again then put soy sauce. Then wait for five minutes or so until it is fully cook and taste. Put soy sauce if you think it tastes better. And done! Serve it with rice. Happy eating!

4 Comments:
November 15, 2009 at 8:06 PM

 

Looks sumptuous!

November 15, 2009 at 9:42 PM

 

Kalame sab dani baje oi. Gipalaway man ko nimo dah. Naghapit ko dire kajot para manlili unsay bag-o. Musta naman ka diha?

November 16, 2009 at 12:31 PM

 

Looks really good:)

November 19, 2009 at 6:44 PM

 

Looks yummy!