August 01, 2013
Everyone needs to exercise. It can be of any form and type. It can also be indoor and outdoor exercise. Be it as dancing, brisk walking, jogging, running, set-up, push-up, crunches and many more. As we know, we have to burn calories stored in our body as we eat every now and then. It's great to do it, it's great to burn unwanted calories in our body. Also, it releases stress, tensions, bad moods and all that negativity one had in mind. It makes a difference if we are doing that with a good and right suit, isn't it?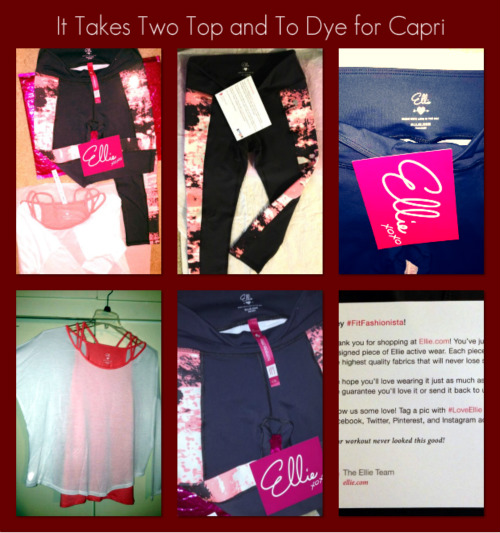 Disclosure: I received product/s above for review purposes. Your thoughts and opinions may vary from mine. FYI, I was not compensated in return of this review. This is a 100% personal honest opinion of yours truly.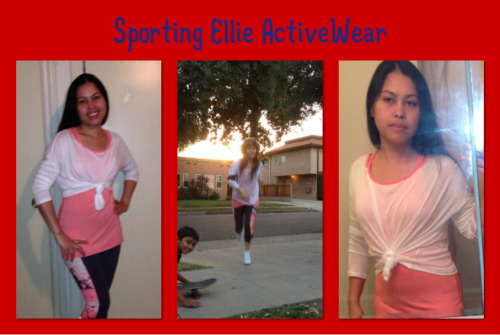 I'm glad I've got pair of an Active Wear from
Ellie.com.
I have few suits but it also cool to have some more and with this cool active wear. I love the below the knee-type printed side bottom or the
To Dye for Capri
(look for the capri, not the shirt) and that three-fourth two-in-one shirt,
It Takes Two Top
. It is a summery-look pair. It is fancy to me. Its fabric is soft, lightweight and feel so good having it while doing my exercise. I have to say Ellie got good stuffs and the best thing is, it is made in USA! I even want to more from their company, for now, I love to have another one of that top I got. And ooh they have new designs and stocks every month. Their August line is already released days ago! Yay! (You may want to check it out to check for yourself and get that
20% off
. Have a great day everyone! ~hugs&kisses~
16 Comments:
August 2, 2013 at 5:42 AM

 

I really do not exercise at all-bad I know-that outfit is really cute! Maybe I will go see if there is anything that is not only for exercising there.

August 2, 2013 at 7:56 AM

 

I love these set of fitness outfit from Ellie, wish I have the budget to buy it hehehe.

August 2, 2013 at 9:09 AM

 

I love that you tie a knot in front, it accentuate your curves.

August 2, 2013 at 12:59 PM

 

The outfit really suits you looks lovely. I need to exercise so much more than I do now.

August 2, 2013 at 4:36 PM

 

those are quite a lovely pair of active wear, now i wish i can have one, too!

this will surely inspire you to workout more as you look fab in it! :)

August 2, 2013 at 5:32 PM

 

Very cute workout clothes! I exercise regularly but I usually just wear shorts and a t. This is much cuter!

August 2, 2013 at 7:39 PM

 

I love good active wear. This looks and sounds perfect for daily workouts.

August 2, 2013 at 10:00 PM

 

I still need to try out my Ellie outfit but yours looks cute!

August 3, 2013 at 5:11 AM

 

i love ellie. their sportswear are very well made.

August 3, 2013 at 6:11 AM

 

My ellie capris are my favorite.

August 3, 2013 at 8:10 AM

 

The top is so stylish that it can be used even for non-sports activities. Like a trip to the grocery or perhaps a picnic in the park. :-)

August 3, 2013 at 8:18 AM

 

I like my top too and bottom from ellie they have high ends workout outfit you could have

August 3, 2013 at 11:02 AM

 

A comfortable outfit is a must when a person is doing her exercise. I liked the one that you had, looks so comfy!

August 3, 2013 at 2:50 PM

 

Awesome picks from Ellie's collection of workout clothes mommy. I like the ones that I got from them too. It is comfortable to wear. :) Looking good.

August 3, 2013 at 3:09 PM

 

You look great and that activewear looks great on you. Way to go Cacai!

August 5, 2013 at 9:47 PM

 

So Nice! I so totally need some work out clothes that will motivate me to actually do some work out. :P