January 05, 2013
(This is a guest post)
Fiji is an island nation known for its natural beauty. Many of Fiji's natural sites are unlike any others found in the world. Breathtaking waterfalls, magnificent mountains and gushing rivers are just a few of the beautiful sites of nature found on Fiji's islands. Here are a few of the best natural sites to see while taking holidays to Fiji:
Tavoro Waterfalls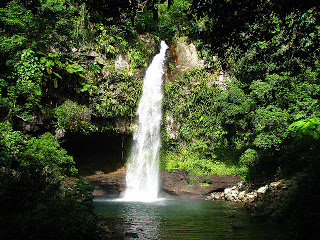 Located in Bouma National Heritage Park on the island of Taveuni, these small waterfalls create a peaceful ambience to the surrounding forest. The largest of the three waterfalls is only about 80 feet tall. The site also offers an escape from some of Fiji's more renowned areas for tourism. Many people come to the falls to take pictures and enjoy swimming.
Lake Tagimaucia
Also located on Taveuni, this peaceful lake sits in a dormant volcanic crater. Undulating hills covered in lush green vegetation surround the lake. The tagimaucia, a rare flowering plant only found in Fiji, adds further appeal to the setting.
Mount Tomanivi
Standing at a total height of 4,344 feet, this peak on the island of VitiLevu is considered to be the tallest of Fiji's mountains. Visitors who wish to climb to the top of the mountain can find a hiking trail starting at the village of Navai. The mountain's summit offers stunning views of the surrounding landscape and the Pacific Ocean.
Rewa River
This wide river originates from Mount Tamanivi and flows all the way to Laucala Bay. Several villages line the banks of the river, and many of the locals often take their boats out on the waterway. Rewa Bridge, which is also one of Fiji's major roadways, spans the river to join the capital city of Suva to the smaller city of Nausori.
Kortogo Beach
This waterfront paradise is also home to one of Fiji's most popular resorts. It is located along VitiLevu's Coral Coast. Beautiful palm trees and a soft sand coating make this beach the perfect place to enjoy a relaxing day. The beach is also known as a great location to partake in swimming, snorkeling and boating.
Mount BukeLevu
Also known as the tallest mountain on Kadavu Island, this peak stands at a total height of 2,749 feet. The mountain is also an ideal place to spot some of Fiji's most fascinating forms of wildlife.
Biausevu Waterfall
Visitors taking holidays to Fiji can find this unique waterfall in the southern portion of VitiLevu not far from the village of Biausevu. Water can be seen cascading down a two-tiered rock formation and crashing down into a pool full of rocks. A pleasant hike along a series of creeks leads to this splendid natural attraction.
Navua River
The upper portion of this VitiLevuriver is a popular spot for avid river rafters. The river flows by stunning rock formations and small waterfalls. Colorful flowers and other forms of vegetation are visible along the river's banks. While most of the river is peaceful, certain sections feature a series of rushing rapids.
0 Comments: