November 20, 2012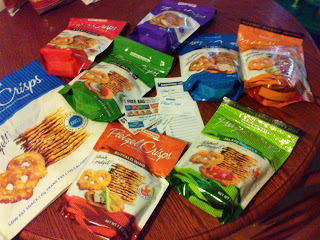 Honestly, what do you think when it comes to pretzels? Alright, you may think the traditional pretzels to which it can be located under snacks/junk foods or something to munch on. Oops you got to recheck if you think such, that's because what you saw are products from
Pretzel Crisps® Deli Style
which can be found in deli area of the grocery store. And yes, different texture and taste from the traditional ones.
It has seven (7) different flavors, to names are: Sesame, Buffalo Wings, Original, Garlic Parmesan, Everything, Chipotle Cheddar and Jalapeño Jack. For me, I like most the Everything flavor. Though all are salty but I eat it with something sweet like that of peanut butter. I also like to try the
Pretzel Crisps® Deli Style recipes
that I saw.
I think this is a great to give as a gift to your mother or friends who loves cooking, as a celebration of Thanksgiving or a way of thanking her in any way when it comes to foods that gives impact on you. :-)
What do you think? And so, Happy Thanksgiving then! All the best!
0 Comments: