June 22, 2010
I was not able to post my food trip the other week because of the Lakers game and some other stuff after it. I had my reserved post but was not able (again) to put some more words into it. Yep, I was that kind of busy, actually with my headache at the same time I was so weak that even just to type words, I was not able to do it. Hemmm.. blame it to the weather? Hemmm.. alright, just a few reminder -- if for any reason, you cannot have your air conditioning or fan on, be sure to drink to drink a lot of cold water. To me, I turn on and off the A/C because it seemed it was also very cold as well as the fan. Then really, cold water helped. Anyway, let us have for now my special spaghetti with that big home made meat balls or "bola-bola".


You can have some some folks should you like to. *wink* Yes, I called it special because I put a bit of condensed milk and I know it is unusual for an spaghetti to have a milk though some also put salt to taste it like milk. Together with the ingredients aside from homemade big meat balls (which my DH really like to have it big) and milk, I put also cheese, spaghetti sauce and meat sauce (some put ketchup but I haven't done it yet, I want to try to next time for a change :) and another dash of ground beef from some the set of meat balls, spices (onion, garlic), olive oil and a hot dog in a big can. What I did was that I thinly cube-sliced onion and cloves garlic as well as sliced diagonally the hot-dogs in a can then sauteed. Then I sauteed it with small amount of ground beef. After it has been okay (brown), I put the sauce and let it boiled. As it was already boiled, I put the cooked spaghetti and mixed altogether with the cooked meat balls. I then let it boiled again and done!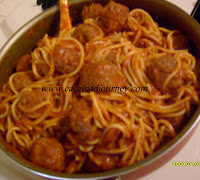 It is time to eat! Oops let it cool off a bit. ;-) By the way, I cooked the spaghetti in a water with salt and cooking oil (I use olive oil). Never forget to stir it frequently especially once it is already boiled so spaghetti noodles won't stick altogether. I don't cover it so I can chase the noodles and stir it frequently. :-) About my homemade meat balls, I will share it next time. We may have same process or different in other ways but that's what makes it unique and sharing, right? You may also like to share yours, how you did it. Come on don't be shy.. kidding aside.. *wink* Have a great Wednesday!
8 Comments:
June 24, 2010 at 5:29 AM

 

La, ka yummy man aning imug spag naa pa jud meatballs nga homemade... ka buotan sa wify oi daghan jud food for d partner.

June 24, 2010 at 6:23 AM

 

hehehe.. siyempre la.. hehheh.. *wink* ;-)

June 24, 2010 at 5:14 PM

 

naku naman sis, natakam ako dito at magluto din ako niyan ngayong weekend.. kopyahin ko recipe hihihi..ang yummy naman.. arrgh..gusto ko ng spaghettiiii...

June 24, 2010 at 5:59 PM

 

hehehe.. thanks mommy Nuts for being here... thanks.. ;-) muahhh!

June 24, 2010 at 7:17 PM

 

ang sarap naman nito, drooling badly here hehehehe

June 25, 2010 at 5:14 AM

 

wowwwww kalami tan-awon Cai...as in..hahaha...try ko ana be pero palit lang ko meat balls kay kapoy maglingin lingin hehehe

BTW..pareho diay ka sa ako cousin nga bana american pod Cai...dili ganahan mouli sa Bohol kung uban iya bana kay di man sya ka wara-wara hahahaha kay kj man kaayo iya bana hahaha

TY sa comment

June 26, 2010 at 11:19 AM

 

Perteng daghana dani imong giluto Baje. Padal-e kaha ko dire. E-FedEX Lang para dali..lol

October 13, 2010 at 7:51 PM

 

Yum!

I love making and eating spaghetti meatballs than just the regular spaghetti.

Have a nice day!