February 05, 2010
It is raining men! It is raining in my place right now. This started lately early in the morning then went all the way until this time. Even with that DH went to Long Beach to had his hair cut. Then hours later after he arrived home, he ordered lunch good for two (and what could other be when we are just two in the house? *winkz*). Then we went to the neighboring city (Pasadena) but before we got the order we went strolling first around the area though we were just inside the car since it was raining and it is until now. DH played a loud sound and it made me happy, it was not loud on the outside part concerning about other drivers because it was raining hard. Pasadena is nice, big buildings than our city and it is pretty organize like our city. :-) So then we strolled around and I got to see again the beauty of the place before we off to get the food. It was a pretty strolling and I was happy with the DH as well. Then the rain continued. I had the shot minutes before I write this. It shows the amount of rain that the apartment complex (where we live) carport has. When it is just normal rain, it would not look like that because it has its own water port. And below the recent image by the way was the image during the
powerful storm which happened about four weeks ago here in SoCal
. You can also click the image to enlarge if you feel like to.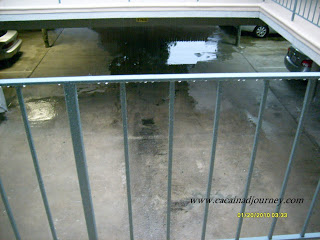 carport on the 20th of January during series of rainstorm (during daytime)
And it is still raining until now here in my place. So what about in yours folks, did it rain in there? I hope you are in the best of everything... hugs and kisses.. muahhh!
0 Comments: