January 07, 2010
posted by: Cacai M.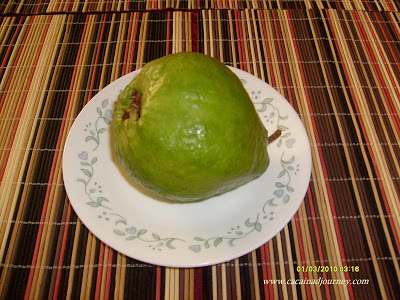 This is one of the fruits that I missed eating eat here in USA. You could only seldom found this in any store here. Glad I found one in 168 SM last Sunday as I went shopping in there. You know I could only go there sometimes and once I am there, I really spent time searching those stuffs that I missed way back in my homeland. Well, homesick sometimes struck on me especially when it comes to foods. I was very happy I found the above fruit (guava or we call it back in homeland as "American guava" because of its size) that I even take a picture. :-) Ooh well, this is one of my firsts here in the place where I am now. So better have a remembrance, the ejournal takes good care of it. :-)

What about you, do you like eating this kind of fruit? What I know is that women loves eating this, do you? Have a good day!


2 Comments:
January 8, 2010 at 11:00 AM

 

wow!crunchy guava,,love it,its one of my favorite fruits aside from mango,much love it eating with salt,,wish i could find one somewhere in town,but ijust couldn't...surely theres one outhere yah.......

Lulu said...

January 8, 2010 at 12:10 PM

 

i love this when dipped in a mixture of vinegar and salt!