December 14, 2009
posted by: Cacai M.

Nine days to go for Christmas! OOH hah! Are you ready for the Christmas celebration folks? Hemmm.. since Christmas is already in the air, I guess most of you are excited and that's great! All I can say is be happy even though there's no new for this special day.

By the way, as the days are counting down for Christmas, rains are also pouring here in my place. This is unusual for me. From three years of my stay in here, it's just this time that it's raining for consecutive days. Am glad it didn't rain today. It was Friday last week until Sunday that it did. I was happy of it because it is not hard that it cause into flood or whatsoever. The raindrops that we had were music to my ears since I had not witnessed raindrops for so long already. Below is the image of the sky last Friday, apparently no clouds appeared that day.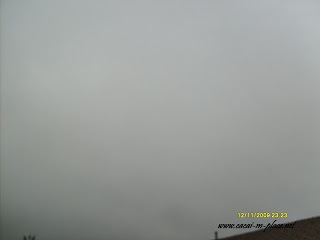 Have a great week folks! Enjoy the countdown and I hope it will not rain hard if there's rain forecast this week and in the coming days.. To God be the glory!

5 Comments:
December 14, 2009 at 10:09 PM

 

Hi Cai,
thanks for leaving comments in my posts. yep, di na mapigil ang pagdating ng Pasko at bagong taon na naman :)
I am working as a customer service associate in a department store here in Texas. my job is physical-all around so i get stressed and tired. good sleep helps me relax and rested.

December 15, 2009 at 6:44 AM

 

Hi Cai, this is the most busiest christmas for us. I think I can't enjoy the one day holiday, as we were oblige to report to our work. Maybe this is the right time to say Merry Christmas to you and your family and a Prosperous New Year!!

Please change my url Cai to www.star-chuu.blogspot.com. Thanks my friend..I miss you and everyone here in blogosphere.

December 15, 2009 at 3:29 PM

 

sus sis..klaro kaau nga tugnaw kaau diha....kami ako ready na gamay sa Christmas....misa de gallo na this morning...ng start na today here sa Philippines

December 15, 2009 at 6:18 PM

 

Aguy ka paspas sa adlaw, misa de gallo na sa ato unyang kadlawon cai, aw nag sugd na d i karn didto

Mamasko ko diha inyo ha. Merry Christmas to you and your hubby

December 16, 2009 at 2:45 PM

 

na ako madam sis wala pako mag ready woi...wala man gani nako naputos ang mga presents...sensya kung ma late akong pinaskuhan ha....ehehhe!

saonz nga super busy kaau ko woi...ugma na jud among final...maong wala tawon ko nakagwara-wara sa blog land.....

sensya na kay EC drop ra jud akong nakaya....lol!

sige madam sis...salamat kaau sa dalaw ug comment.....mag tuon sako....:)