October 07, 2009

I feel pity for my plant. Two weeks ago, I put it outside near the door to have sunlight. I just found out that it was over with sunlight (that was so hot that time) and its leaves turn into over red , the sign of over sunlight. And the leaves slowly fell down until lately, it was like the image above. And the image below is the healthy one which I can't see anymore beside my table. huhuhuh.. (:
before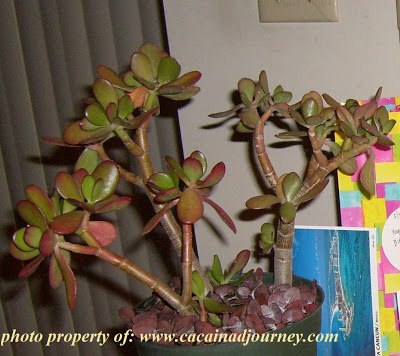 (

you can click the images to enlarge

)
For more of my Wordless Wednesday entries, click here. If you like to view more entries, just click the logo above. Have a good day!

13 Comments:
October 7, 2009 at 5:54 PM

 

kalooy sa iya plant...maayo unta kung mabuhi pa na ug balik Cai..

naa ko award sa imo ha?

October 7, 2009 at 8:14 PM

 

Unsa name ana nga plant karya gwapa lge, ganahan ko, kasayang naupaw na hapit, busy mn gd ang amo ug blogging nakalimtan atiman ang baby hehe joking.

Karon pko kalaag karya oi ky wazz korente intawn dri, ugma lng ko tiwas libut.mmwah!

October 7, 2009 at 8:34 PM

 

Baje, nasobraan nas kainit ug tubig. Naa me inanhan walay bobo. May lage sa isa ka bulan ma bubo-an ug kaduha. Mamatay man pod na gud ko masobraan sa tubig. Kalooy sa tanom ni Mareng Becka.

October 7, 2009 at 8:36 PM

 

Nah Karya, waz mn ko kaila ani nga tanom - birthday gift mn ni sa akoa mao nakalimot pod ko pangutana unsa ni nga ngalan ani.. ingnon lang ta ka pag makabalo ko.. muahh!

October 7, 2009 at 8:41 PM

 

mao jud best bud nasobraan ni og ka-init, not sure sa tubig ky usahay ra mn kaayo nko ni bo-bo-an pag makahinumdom.. hahah.. ky mora mn gud daw ni cactus og life - mao pod nga ako gibutang sa init ky akong huna-huna para mo-green og ayo pastilan na-opaw mn nuon.. hahah.. maau gani ky nakit-an ako bana iya gibalhin sus kung wla patay na jud sguro ni.. imagine for one day lang hah.. sguro ky grabe mn jud to ka-init mn gud dre 100F gud og sa semento mn gud nko gibutang.. I learn my lesson anyway. It's just sayang.. I hope mobalik ni iya hitsura... I hope so..

October 8, 2009 at 12:21 AM

 

mine is up cai..bisitahi pud imong igsoon nga lalaki..hahahaha

October 8, 2009 at 12:52 AM

 

That was nice....

October 8, 2009 at 3:47 AM

 

na ako di jud ko green thumb sis. it happens to me always kahit hindi mabilad sa araw dont worry basin ug mo -grow pa na pagbalik cai

October 8, 2009 at 4:50 AM

 

Lola, nice man imung mga tanum diay. Murag lovers sad diay ka ani lola?

October 8, 2009 at 1:22 PM

 

Hi sis! sensya na kron pa ko ka-bisita'g balik, kay busy imong ayaah ug kuri-kuri dris among panimalay! Pastilan! Pag-minyo pa! nyahahahhaha..

Anyway, mopalit ka'g bata? baligya nko si fifi, tag-piso, naay pataban akong bana, nyahahahhaa... Hay kataw na lng ta ani kaysa mag-hilak sa kakapoy... S

Salamat sa bisita cai!

October 9, 2009 at 2:26 AM

 

waa...naunsi mani madam sis...na sobraan man sa init...this is indoor plant I think..maong nalaya....am sure mabuhi pa ni ug balik...

October 9, 2009 at 12:40 PM

 

nah mao lagi oi.. I hope nga mabuhi pa ni madam sis..

October 11, 2009 at 9:30 PM

 

I have a similar plant at home that died not because of too much sunlight but because we keep forgetting to water that plant. Too busy! Hehe! Happy Monday!