September 30, 2009
posted by: Cacai M.

This coming October 16 and 17(Frid ay and Saturday), Hilton Branson Convention Center will be having a 2-days Cooking Weekend School. The good thing is there will be a one-of-a-kind package which includes deluxe accommodations for two people which includes the cooking participant and his/her companion which is all for just $398.00 plus tax for both nights!


Do you like to know Hilton style of cooking?
Would you like to be a great host for family or friends on special days, holidays, or get-together as to Hilton style of cooking?
It's so great to boost your cooking skill at time like this.
Do not think twice of booking in advance at

Hilton Branson Convention Center Hotel

for its 2-Days Cooking Weekend School. Hilton's holiday tastes wi
ll be yours after joining this two days class. Your family and friends will be amazed of what you h
ave been taught.
That would be awesome and sounds great!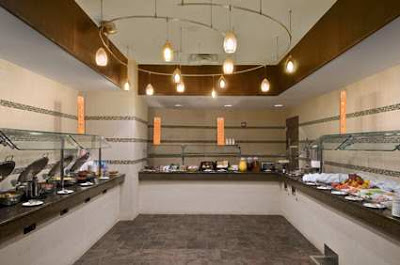 For the event, participants will be welcomed to
a sumptuous Wine Tasting Reception upon arrival. On the next morning, Nathan Read - Hilton's very own chef,
will do some cooking demonstrations and teach the participants how to prepare appetizers served at the wine tasting.
Then on
Saturday evening
, participants will experience the lavishes four-course dinner paired with appropriate wines a
nd learn how to prepare the featured meal the
following morning.
Not only you will experience the pampered luxury that only Hilton – the first name in hospitality management – has to offer, but you will have easy access to shops, boutiques, restaurants, a river walk and other attractions while you are enjoying the splendors of your wine tasting and four-course meals. Aside from the easy driving distance of Branson's spectacular views. You will be amazed as well to see Branson's championship golf courses, lakes, museums and 49 live entertainment theaters. With so much to offer, this exciting vacation community is perfect for me and my husband, for you, and everyone. Plan and book now. The offer is only limited. Have fun cooking at the same time enjoying the views around and outside the hotel you are staying, at a very affordable price with the best ambiance. Enjoy!
Hilton Branson Convention Center Hotel
0 Comments: