March 16, 2009
"
A PRAYER TAG
AND the LINK OF PHILIPPINES AND FILIPINOS
"
- My sissy

Rechie

the author of CHUCHIE'S HIDEAWAY
blog gave me this one month ago already but it's just now that I post. Sorry sis that it took me a long time to post this tag of yours and I would like also to thank you that am one of your recipient of this tag 'coz am of the Filipinos and would love to gave also this to my fellow Filipinos to offer a prayer for everyone of us.

Instructions:

This is a prayer tag and link for the Philippines and the Filipinos. You are enjoined to utter this prayer for nine (9) consecutive days and to tag as many bloggers as you can with preference for Filipinos. But only bonafide Filipinos shall be included in the official registry of Filipino bloggers in this blog. Each time a new blogger makes a link, be sure to send me an email of the entire link through

melalarilla@gmail.com

so that the official list will be consolidated in a master list in this blog. For our Muslim brothers, you may make your own special prayer formula but you must never deviate from the formula of this entire post.

Dear heavenly Father, we consecrate to you our beloved country- the Philippines and all the Filipinos around the world. We acknowledge Father that apart from You, we can do nothing and it is only your divine providence and grace that can unite all Filipinos as one nation. We therefore humble ourselves before your throne. We confess all our sins to you individually and collectively as a nation. Forgive us our sins Father and wash us clean by the precious blood of Your beloved Son- Jesus Christ. Mend our wicked ways and let us experience a strong and genuine spiritual revival for ourselves and for our country. Let the Holy Spirit imbibe us with power, love and wisdom to return to Your path of holiness and righteousness. Bless our country, heavenly father. Bless all Filipinos wherever they maybe. Let progress, unity, harmony, stability, justice, peace and prosperity reign in our country.
Bless our leaders, from the President down to the lowest Barangay official. Touch their hearts that they may serve our country with all honesty and with love and integrity. Bless our children and our future generation. And bless us all Father in all aspects of our lives. This we pray to You heavenly Father, in the mighty name of Jesus, through the power of the Holy Spirit, one God forever and ever. Amen.
Let's help spread the word of God to the Philippines and to all the Filipinos here in the blogosphere...! and not Filipinos too can join to pray. I am sharing this tag to all Filipino bloggers and as I said all can participate too for praying!
Madz

, the author of

"Pride of Hingotanan Bohol"- My L
ife's Journey to Success
and

Grace

, the author of

The Drapers Adventures

gave this award to me. Thanks Madz for including me as your sisterhood in this blogosphere world.
Here are the rules:
1. Put the logo on your blog or post.
3. Be sure to link to your nominees within your post.
4. Let them know that they have received this a
ward by commenting on their blog.
5. Share the love and li
nk to this post and to the person from whom y
ou received your award.
Am giving this award to:

Rechie

(the author of SCRAP COLLECTION); Meryl

(the author of PEOPLE, PLACES

, EVENTS, AND MY LIFE; Ate Ces

(the author of SMALL AND SIMPLE THINGS)

,

Star

(the author of Maiden's Testimony);

Dhemz

(the author of MY LIFE PERCEPTION AND INSPIRATION),

Madz

(the author of THINGS I DID NOT KNOW BEFORE) ; and all of you!
Feel free to grab guys to whoever wanna like to post this and admire the beauty of Sisterhood in the blogosphere world.
*****
"
PERFECT BLEND OF FRIENDSHIP!
"
I received this award from my two friends:

Grace

- the author of MY WORLD AND FAMILY INSPIRATION, and

Meryl

- the author of PLACES, PEOPLE, EVENTS, GOOD FOOD, AND MY LIFE. Thank you friendship for this award. It's my pleasure to be one of your frie
nds.
Te Tetcha of

Pensive Thoughts

gave me this (updated 04/23/09). Thanks much!
other

"

MARIE ANTOINETTE AWARD

"

from a new-found friend
Chuck
- the author of SECONDARY ROADS gave me this award. His thought given is very nice and am touched. It has been said in there that he gave me this award because he can see the courage in me struggling life's circumstances as well as here in blogosphere world. Thank you much friend for the thought. I treasure you!
other version of a
"SIMPLE MEME TAG" with a blend of SMILE AWARD
from
Star
- the author of MAIDEN'S TESTIMONY gave me this award but since I already made this I will just post the cute image or picture included. Here it is: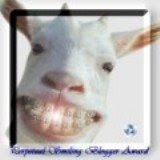 Isn't it cute guys? By the way, thanks a lot Star for including me in your list of friends. Muahhugs!
here's the last but not the least

"ABC's FRIENDSHIP"

or the A-Z Tag-
Madame Apro/Ruth
- the author of APHRODITE: MY SO-CALLED LIFE gave this award and at the same time a tag. Thank you much Ruth for including me as the recipient of this award.
HAPPY ST. PATRICK DAY for tomorrow(Tuesday, March 17) guys. Wear

green

in honor of St. Patrick. God bless..
16 Comments:
March 16, 2009 at 9:41 PM

 

thanks for posting dami nyan ah pinag isa nba haha

March 16, 2009 at 11:02 PM

 

you deserved to have all of the awards..

keep up the good friendly works!

god bliss!

March 17, 2009 at 12:01 AM

 

March 17, 2009 at 12:21 AM

 

woi madam sis..salamat sa award...g awardan ta sad ka ani..hehhe..limot guro ka...hehhehe!

Anyhow, musta na? I have missed your chickas...been sick lately...mag daot man jud ko before sako PMS...hehhee..mao drink lang ko ug beer...hehhe..na try ba nimo mag drink ug beer kung naka PMS? hehehe!

March 17, 2009 at 1:47 AM

 

To Grace, yep it is blend into one. heheh.. By the way, thanks a lot hah. Muahhugs sis.

To Ate Vhing and Kirhat, thanks a lot! The two of you are also best in here because of your warm attitude.
Kudos to those who are like you most especially of course yourselves. Again, thanks.

To Dhemz, aw sis waz nah ang Lola Rebecca mo may pagka-ulyanin nah. hahah. Sowe hah I will find it on your posts later. Muahhugs Madam sis.. Hope you will be completely well on your PMS. I'll visit you later.

March 17, 2009 at 11:08 AM

 

Hi friend.. Interesting post.. Nice blog work.. keep it up..
will drop by your site often.. Do find time to visit my blog and post your comments..
Have a great day.. Cheers!!!

March 17, 2009 at 11:11 AM

 

Sure Sri, I will. Btw, thanks for being here and leaving a mark. It's really an honor for me. I'll be on your site after this.

March 17, 2009 at 11:13 PM

 

i like your blog, really nice and you deserve to have the award.

more award and god bless!

March 18, 2009 at 9:28 AM

 

Thanks for the compliment Angel.. May you come by in here often 'coz you're such an Angel to me. Thanks a lot!

March 18, 2009 at 1:09 PM

 

grabe, you have ample of awards, Beck... that's good and you deserve it...keep blogging:)

March 18, 2009 at 1:57 PM

 

Thanks Te Shaw, yep! Am blessed to have you and them to be my friends in here. My readers , family, and friends- labyah all! Thanks a lot!

March 19, 2009 at 2:24 AM

 

hahahha sistah grabe dami mo awards... you deserve those dangz... yahoo!! really feels nice no when we get these wonderful tags from our blogging friends, ako dn dami ko na dn naging friends here and you are one of them Cai, I am so grateful to have met you here.... stay sweet.. cge will grab this one sa other blog ko...

Thanks for sharing your thoughts to us, keep it up, I like your blog though...

Btw, umalis pla kmi yesterday, we went to visit my in-laws, nagtatampo kc if hindi dindalaw haaaaaaaaaaaaaaayyyyyyyyyyyyy mga tiguwang unsaon lang.... kapoy lagi, pero matulog man ko inig abot namo didto usahay, sa byahe ba... unya I don't want to give a bad impression sa akong banana nga I don't like being with them, ikanga pakisama ba... but I am trying bya gyod!

Uy naa ko personal question nimo ba, minyo nba? any children?

Cge dangz, see yah later... thanks again sa mga awards ha... mwah wamh wamh... you take care always... God bless

March 19, 2009 at 4:25 AM

 

elow sistah..thanks for posting my tag for you here...hehehe kadaghan sa awards and tags you got sister oi..you deserve all of it. I stopped by here to grab my tag i have here diay

March 19, 2009 at 3:13 PM

 

Hello Madz, thanks for the comment and sharing your life in there- it's been very comfortable to receive such a warm welcome from a blogger friends like you Madz. I treasure you and one of my forever friends in here. I will not try to break the bonding we have and I promise that. And yeah it feefs so great to be one of the recepient of the tags and awards that they remember us as they write such. Again, I would like to extend my grateful thanks to all of them including you of course.
About the compliment of my blog Madz, thanks a lot huh? Your 3 blogs are great too! Keep rocking the blogosphere boat Madz!
And about personal que, yep affirmative am a married one but have no kid yet. Am glad you will be having you kid soon- God bless you more Madz 'coz you're such a very nice person- loving, thoughtful, and caring one. Take care always as I care.. muahhhugs. I'll visit your sites later for am still now at school sneaking.. heheheh. muahhhugs

March 21, 2009 at 7:12 PM

 

Hi Cacai, thanks for the award..dami nang award mo friend, you deserve to received those awards, your a lovely and friendly lady, Promise to post the award from you..I'm still suffering colds and hard coughed, sorry for the delayed, I already read your post the day you posted it. God bless you Cacai..Mhwaah..!!

March 21, 2009 at 7:18 PM

 

Thank you soo much Star, may you will be soon okey and the cough and cold or the flu will get rid of you. God bless you more my friend because you're such a lovely and amazing new friend of mine here in blogosphere. Muahhugs to you. Happy Sunday!