February 06, 2009
posted
by

:
Cacai M.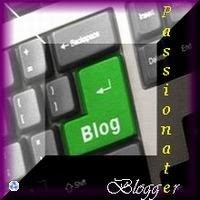 I got this award three(3) days ago by my new friend in blogosphere
Joops
of his site-
www.sailorsmusings.com
.
It says that if someone given this award as we can see too, it means that such person/s are passionate or makes blog as their passion. They're passionate enough in all that they does. Wheewww... I am one of them! (~_~). To Joops and all who believes that I am deserving of this award, a big Thanks!
And now am giving this award to passionate bloggers in the world, namely:
Dhemz/Demcy

,

Rechie,
Vhing F
,
Shiela
,
HeryRhey
,
Lisa
,
Lisgold
, Scarletbreeze, Dorothyl, Khozinol, Crash, Cecile, Arya, Arnie, Donadz, Dhian, VR, Investa, Ghanielle, MV, Joops, and Misty
.
Claim this now fellas.. you're deserving of this award.
Subscribe in a reader

8 Comments:
February 6, 2009 at 10:41 PM

 

Sister..thanks for this award ha..hehehe...you really know i am so much inlove with blogging...i posted this tomorrow blog already, check it out.

February 7, 2009 at 2:56 AM

 

congrulation.. to be success

February 7, 2009 at 12:11 PM

 

You have a lot of tags girl. your friend must love you so much. Take care.

February 7, 2009 at 7:41 PM

 

You have such a nice blog girl thats why you get a bunch of award, sana we can convert all that to money huh lol, kidding aside thanks for the award and tag.ill post them later. have a nice day!

February 8, 2009 at 6:39 AM

 

I'll add our name on the post,ha meron na kasi ako nito eh, salamat and have a nice day, dear!

February 9, 2009 at 2:43 PM

 

Thanks a lot Cacai of this tag..
have a great day

February 9, 2009 at 2:45 PM

 

Thanks a lot Cacai of this tag..
have a great day

February 20, 2009 at 11:34 PM

 

what this award means, and who gave for u...I too need a awrd my dear friend