September 29, 2013
I love Made in USA stuffs! This Okabashi slippers are just good as where it has been made, yes, it is Made in USA! Good thing I had been given an opportunity to review their quality stuffs. Then off I went to select. I got a Size 7
Brown/Patent color of Indigo
for myself and Size 11 of
Weave (Black color)
. In a matter of days, I had it on our feet. They are fast in shipping. To my surprise, I love the style of what my husband's choice. It is light, neat and I love its weave. Mine on the other hand is cool and the color is what I expected, though I wish it had been a lightweight (but that's just my own opinion, I'm quite sure that there's a purpose why it has been like that), other than that I love all its feature. Both have soft sole and its arc felt the feet relax. Also, its costumer service is as fast as lightning if you need or ask something. All in all, it's a great slippers! --- Made in USA.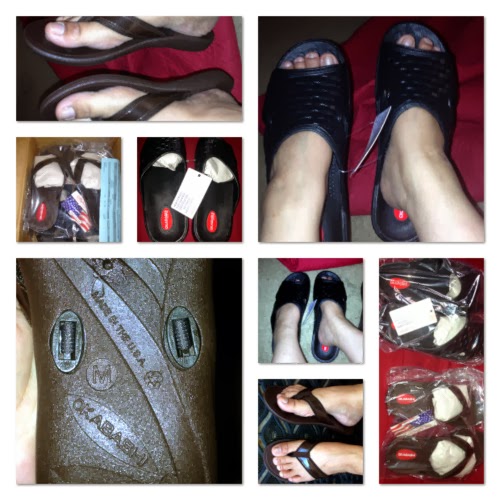 I received products above complimentary from
Okabashi
in return for a review or testing purposes.
9 Comments:
September 29, 2013 at 3:54 AM

 

That's a nice pair of Okabashi. Got mine and loved it!

September 29, 2013 at 11:44 AM

 

Yeah, those are awesome! I love it too!

September 29, 2013 at 7:23 PM

 

I love their footweaqr, so high end and comfy!

September 30, 2013 at 8:47 AM

 

Those are nice! The weave design is great but I still prefer the thongs over the slip ons. :-)

September 30, 2013 at 9:24 AM

 

I have this too, in pink. I love this slipper!

September 30, 2013 at 10:35 AM

 

Oh I thought it's made from Japan considering the name hehe

September 30, 2013 at 7:14 PM

 

i love okabashi. I have slippers from them which will be perfect for winter.

October 1, 2013 at 5:11 PM

 

It would seem like Okabashi is made from Japan!

October 1, 2013 at 6:24 PM

 

I have never heard of Okabashi slippers before, but if they are comfy + made of good quality, then they are good in my book!