July 25, 2010
I just want to share some piece of watermelon to those sunny hot days you got there right now. This was my comfort one week ago. Yes, the whole week before this week was such a hot, really hot! As in you could feel the scorching even after you took a bath from cold water. Air conditioning must be doing its best but poor pocket of paying back the prize but what can you do if that is the only way to give coolness to your bod? Ooh well, this seedless big watermelon was consumed by myself alone in just the span of two days for only a couple of sessions. Ha! You might laugh but thanks God for it (as well). ;-)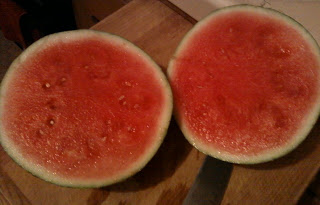 And now I got another watermelon because I can feel the humidity again though it is not that as like last week. Just for sureness, I have a reservation or just for taste buds purposes. :) I did not look at the weather forecast on my end for next week and this weekend but so far this week has been good as talking to weather, the highest temperature is approximately 86 degrees Fahrenheit. Oops sorry for the cupboard, I massacred it. Hahaha. You know, when it comes to kitchen journey no one can get on the way (it's all the way) hahaha.

4 Comments:
July 25, 2010 at 7:17 AM

 

Pulang pula ang watermelon mo diyan Marz, im sure it taste good andsweet and very fresh pa.

Sa atoa pa ni arang mahala na, 10 pesos ang slice.

July 25, 2010 at 11:14 PM

 

galaway ko sa watermelon...i love it...kana nalang ako itubig, sugot jud ko

July 26, 2010 at 4:42 AM

 

wow sarap.. walang buto talaga?
musta na? daan ka sa blog ko ha.. :-)

July 28, 2010 at 9:20 AM

 

ayay! kalami...galaway tawon ko...ehhehe!

lami unta ikaon ana madam sis...pero lahi man ang weather dire woi...murag sa pinas...ulan ug init ang klima dire sa texas...ehehehe!

lami na kaonon pag init kau ang weather like Cali.