May 25, 2010
I was in the mood of cooking the chicken we had in our refrigerator after of how many days/week that stocked in the freezer. I let out or put the normal low refrigerator temperature so it would be thawed. After that, I began boiling the eggs and gathered the ingredients after. I then put on the vinegar, soy sauce, a dash of iodized salt, a little oil, garlic, onion, a dash of black pepper, bay leaves and a little water. Before that, I skinned-off the pieces of chicken legs. Anyway, one can cook either pre-marinade or not.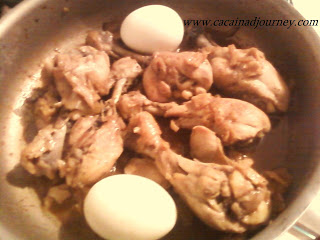 I assume you know how to cook chicken adobo, if not, it's just easy. Just put all the ingredients (except the eggs, put it on when just about done) and let it stand for a couple of minutes or hours depending how you like the meat cooked --- if it has to super soft, just in between or just normal. I, too, like either way depending on my taste bud. ;-) But that time I like it super soft and about emptied its sauce. I let it stand for an hour or so. I just lowered the heat after the first boiled or putting up the desired taste.
So then, happy cooking and eating.. ;-)
5 Comments:
May 26, 2010 at 4:46 PM

 

love adobo!!!!

May 26, 2010 at 6:57 PM

 

naku, di kami nagsasawa dyan..love adobo so much..

May 26, 2010 at 11:21 PM

 

haguy! adobo is indeed one of my all favorite! love it too!

May 27, 2010 at 10:24 AM

 

I love adobo but sad to say I've been trying to cook this for many times but I ended up being disappointed. My brother made a good chicken adobo...As in really, really, good...Love my own baje ha...hehehehe..

By the way about Aurelyn bday party, I can't come there. That week I am off on June 3 and 6...I can't switch day off because cge reklamo ning akong isa ka kauban...cge lang ni xa reklamo ai bisan cge na tagaan ug pabor cge lang japon reklamo...kamo nalang baje...Eregards nalang ko aurelyn ug sa iyang mga bisita.

May 27, 2010 at 5:39 PM

 

waaa...gatulo man akong laway madam sis...naa pa diha?