December 03, 2009
posted
by

:
Cacai M.
(

click to enlarge

)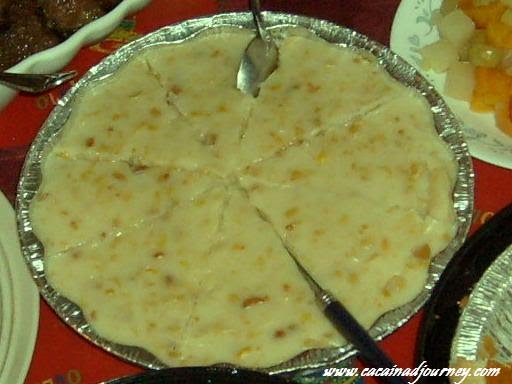 maja blanca
The above image is my maja blanca dessert prepared last thanksgiving day. I could say I am proud of that because I made it perfect unlike the previous ones. That is what I really what I wanted it turned out to. So here is the recipe below.
Ingredients:
1 cup corn starch
1 cup sugar (white or refined)
4 cups coconut milk (I use CHAOKOH or NUOC LOT DUA brand, just buy 4 cans and measure)
1 cup evaporated milk
1 can soup kernel corn
1 cup unsalted peanuts
1 can 8 oz. DOLE crushed pineapple
raw (organic) cashews for toppings (optional)
The procedure is easy. Just mix all the ingredients (except the cashew toppings, of course) beginning from dry ones like flour, sugar, then pour the evaporated milk, coconut milk, corn in can, unsalted peanuts and crushed pineapple. Then if it's already

all mixed

,

put it in stove

.

Stir constantly even if it's not yet boiled. Let it boil and simmer until it become a little bit sticky (not so sticky)

. I believe this won't take more than 30 minutes. Then, put it in a pan and flatten it as fast as you can using a cookie spatula or any heat-resistant spatula, before it gets dry. Then, let it cool and put it in refrigerator and done! Now, it's time to eat. :-)


My maja blanca recipe was inspired by my cousin whom I can't forget the ratio she's using, it is four-is-to-one or 4:1 .
I then personally revised it according to my taste. After all of the gathering of recipes online and offline, this is what I got and am proud I am now a pro of it. Wink. ;-) :-) Have a good day!

4 Comments:
December 3, 2009 at 3:55 AM

 

Thanks ani Cai...ako ning sundugon imo recipe hehehe..buhat ko ani sa pasko pohon..hehe

December 3, 2009 at 10:40 AM

 

Kalami sa imung maja karya, panghatag diha, im sure ikaw ra isa nag kaon ana.

December 4, 2009 at 2:41 PM

 

ayay! salamat for sharing madam sis....will try to make this soon....:)

naa pa diha?

December 4, 2009 at 5:11 PM

 

lami man ni maja ug walay lain ug diba ug naa ka classmate mukaon pero saon taman wala man ko classmate ana mao dili nalang ko maggama