December 13, 2009
posted
by

:
Cacai M.
How do you like to have bling bling jewelry? What about a hip hop jeans chain like an above image or the black cro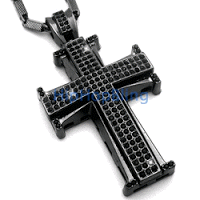 ss pendant on this left side? I have seen these blings mostly on men. It's what they like. I have spoken to some of the peeps who have such that it's their style and they are proud wearing it. Am sure if you're a fan of hip hop artists too, you likely adore such accessory, and even have most of the latest of it. Women does too. Gothic peeps have it. Accessorized themselves through that bling blings add a touch to the look. It seems it's not complete without it and it's cool, it's an art!

2 Comments:
Dhemz said...

December 14, 2009 at 5:09 PM

 

maau pa dire kay bibo ang opps....:)

labay ko dire cai.....:)salamat sa paglabay sa akong kusina....:)

ako wala pa ko ka luto ug ham...will try next weekend.....:)

korek..dire raman pod tawon ko nakabalo mag luto woi...maong usahay trying hard kaau ko mag luto...waaaaaaa......:)

dire tawon nga kung d ka mag luto, permi gutom ang bitok....lol!

Cacai M. said...

December 14, 2009 at 5:13 PM

 

lol! appear diay ta Dhemz TH kaau.. :-) mao jud oi ky wla mn magluto.. maka-order mn galing pero dli mn pod maau pirmihon aside sa mahal.. lol.. og looking forward sa imong ham next weekend.. I hope it will turn out good.. og oizzt anyway, I know daghan pod ka og bling2x dha.. pero naa ka pareha ani nga naay skull Dhemz? unique..