November 28, 2009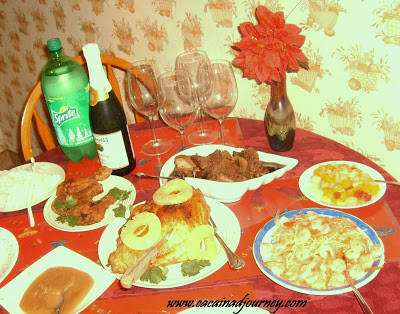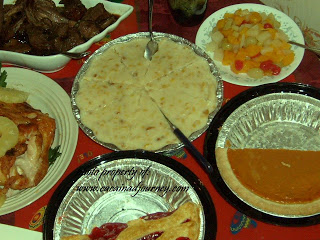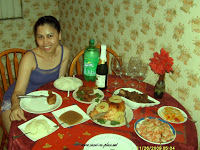 How's your thanksgiving folks? Mine was just simple. I bought boneless fried turkey, no sugar pumpkin pie, cherry lattice pie. Then cooked the turkey gravy, mashed potato, then pork w/ chicken adobo, fried chicken, noodle shrimps. Then prepared maja blanca, fruit cocktail, and martinelli sprite w/ no sugar for drinks. That's all! But ooh I prepare (from shopping to cooking and preparing the kitchen) it from 9 AM up to 5 PM. The pies by the way, was already half because we can't help to eat already. :-) Ooh by the way, my legs hurt of standing while preparing the food. :-( but no worries, it's all worth it! My husband, me, and our one visitor were happy and thanks for the graces! That's all! How's yours? I bet it's great.. I hope you all the best!

11 Comments:
November 29, 2009 at 1:34 AM

 

wow..it is still a great celebration sis since you celebrated with your husband dear and some friends.... wui ha..the foods look yummy....belated happy Thanksgiving nalang sis...was jud na ngari

November 29, 2009 at 6:42 AM

 

Hey lola, ka guapa man tawon sa akong lola oi, dili man ilhan nga gikapoy sa pag luto... daghan man kaau ka handa la... Kamao na diay ka luto lola diha... am happy for you la... u look pretty good.

Bongga diay la, if thanksgiving no? agoy mura sad diay fiesta... heheh! pero dili sirok mga tawo diha la...waaaa...sirok! wa cge la agi ko..ingatz...muah!

November 29, 2009 at 8:24 AM

 

kadaghan sa inyo handa oi, naa pay leche flan?

November 29, 2009 at 12:25 PM

 

the food looks delicious! =)

November 29, 2009 at 2:51 PM

 

Kalami karya sa imung giluto for thanksgiving uy. kamao jud ka da. kami namista ra mi waaaaaa.

salamat sa bisita ug commentos karya, pagkagwapa bya, iya iya ra mn ang posing lol.

November 29, 2009 at 2:59 PM

 

hahaha.. ako2x ra Karya ky dli mn gus2 ako pakner nga ibutang publiko iyang fez.. hahah.. naa bitaw iya pic, next time nlng nko ibutang.. heheh

And thanks Glen, Chie, Anne, and Ruby.. belated Happy Thanksgiving!

og lola Anne.. kamao2x na pod ko gamay2x la.. trying hard cook.. :-)

November 29, 2009 at 3:09 PM

 

that is not simple Cacai.. that is abundance..heheheh.. Nice celebration.. nagutom tuloy ako

November 30, 2009 at 1:48 AM

 

agoy ka sexy sa kusinera bayot..heheheh!


as in? kadaghan sa imong handa madam sis woi....nya 3 lang mo nagkaon...ehehhee...kuyaw pod ka makahanda diha woi...bongga man kaau ug preparation...naa pa kay LO diha ba...pwede ngayo ko...ehehhe!

November 30, 2009 at 2:52 AM

 

Cai, kana bitawng naay nag tuntong nga pinya...naa pay nahibilin ana...pwede man siguro na ipa fed-ex...dili lagi na mapan-os inig abot diri hehehe

ka nice sa inyo celebration...

November 30, 2009 at 4:46 PM

 

You are now becoming a chef cook diha Baje ha. Aypa ka kay very eager to learn how to cook. I am on the same pace also but I easily get discourage. Don't worry with a little bit of encouragement I will be back of being trying hard cook. ANyway Best I am glad that your thanksgiving was fantastic. Take care and have a nice day.

December 2, 2009 at 8:33 AM

 

Happy Thansgiving sis! I didnt cook this year...kumain kami sa labas with my husband's commander. Next year I will definitely cook kasi iba talaga pag may handa sa bahay!