October 30, 2009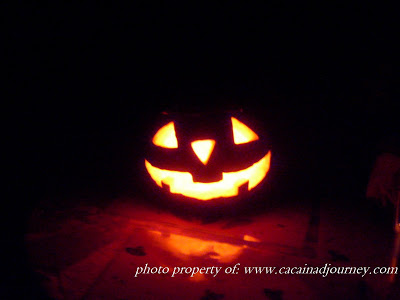 My Jack-o'-lantern
Yes, that's my first ever made
Jack-o'-lantern
. This was the result of what I did yesterday,
Making a Jack-o'-lantern
. Actually I wanted to post it right away but since I wanted to get a good picture but wasn't able to get it, I waited until night time. You know.. And that's now, my simple creation from a 12 lbs pumpkin.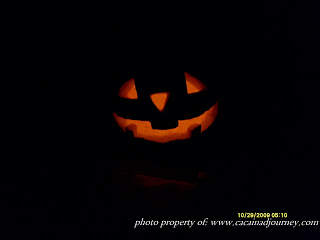 carved pumpkin "glow in the dark"
Advance Happy Halloween for tomorrow! :-)


11 Comments:
October 30, 2009 at 5:56 PM

 

oi, na career jud ang carving sa pumpkin dah! ug very nice pa...bitaw it's good kung gabii na nimo gi picturan den naa lights sa sulod...nice jud kaayo Cai..

BTW. naa na part 2 sa ako believe it or not Cai...promise dili sya fiction...true to life story ni nako. hehehe

October 30, 2009 at 6:51 PM

 

Hoiist ka creative ba d i nimu karya, very nice mn ang result mura mn sd ug pro hehehehe.

hala pagtuon jd ky kung naa nka ana, naa nka ika pasa nga talento heheheh

October 30, 2009 at 8:48 PM

 

pretty nice madam sis....:)

October 31, 2009 at 12:04 AM

 

very nice. happy halloween! ^_^

October 31, 2009 at 8:18 AM

 

hahahah! ka nice gud ana cai..da oi nganu kamao man mo ana! heheh!

k, happy haloween!

October 31, 2009 at 9:33 AM

 

happy halloween cai.

October 31, 2009 at 12:36 PM

 

nice job! mareng kompleto man kaha ang imong mga tudlo karon? kay hadlok man kaha habibi nga maputol ug magcarve ka...

October 31, 2009 at 2:05 PM

 

heheheh.. Mareng Lulu, kalooy sa Ginoo wla mn pod.. nag-amping mn pod ko.. heheh..

oizzt salamat pod sa tanan nga nang-gi-comment.. muahh1

October 31, 2009 at 7:24 PM

 

Happy Halloween. Thanks for the greetings. Naa koy ing-ani sa farmtown ug farmville..hahhah

November 1, 2009 at 12:20 AM

 

yup. my similarity atong Jack o Lantern :-); pwede na siguro ka tawagon pro kay kabalo man ka ug carve; ako kay wa man gud nag try mo carve, tapuan jud ko, mao to akong bana ang naga carve every year :-)!

November 1, 2009 at 5:53 PM

 

I love your pumpkins...I hope you had a fun Halloween :)