October 02, 2009
posted by: Cacai M.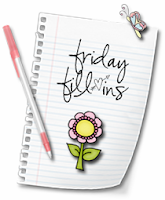 1. I have a history of sssshhhh .

2. How to get back my pr is something I wish I knew.

3. I'm eating (or recently ate) fried pork chop .

4. She's on the road.

5. So that's it, that's my story for today (~_~) .

6. Something better than nothing!

7. And as for the weekend, tonight I'm looking forward to sleep , tomorrow my plans include watching "The Iron Empress" show (every 8-9 pm Sat. & Sunday - Channel 44) and Sunday, I want to watch movie on tv !


For more of my Friday Fill-ins entries, click here . To join or to see other entries, click the above banner. Have a happy weekend folks!


4 Comments:
October 2, 2009 at 7:48 PM

 

Sus shhhhh ra jd imu history karya. busy ang weekend tan aw tv, Ako sd libog ko unsaon pagbalik sa pr oi aron madatu ta preha nimu karya datu na lol.

October 3, 2009 at 9:43 PM

 

great answers sis...wala ko kavisit yesterday kay ngday off ko og blog..whole day jud ko ng-antos dli moatubang og computer hehehe

October 5, 2009 at 6:34 AM

 

Hello cai,
for number 2, that is also what I wish for. I lost my pr in my other blog. hhuhuhu..

btw, may I call you sis?
I am one of the nominees for blogger's choice special awards. My favor is , may I personally ask you to vote for me?hehehe...

** To vote you must be a FILIPINO blogger and must have established a blog before JUNE 2009.
To vote for a blog, we REQUIRE you to make a post that expresses which blog you are voting for.
After making your post, fill out and submit the VOTERS' FORM.

http://www.philippineblogawards.com.ph/2009/10/01/vote-now-for-the-2009-bloggers-choice-special-award/

thank you so much cai. God bless!

October 5, 2009 at 11:08 AM

 

i was also wondering how google based the pr of one's blog :-)!