October 24, 2009
posted
by

:
Cacai M.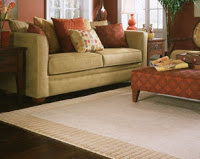 Yep, as for me
area rugs
really adds a touch of luxury to the rooms in the house or even at an
y area yo
u like to put some. Bath room, living room, kitchen, doors, and the likes are some of the areas that rugs are beyond beauty if it's
there. Well, area rugs comes in different sizes and shapes, so, you have the choice of how do you like to put it. Women like to put some stuffs that beautifies the house and am one of those women.. (~_~). What about you, do you or your wife love to put some rugs in your home just like above?

1 Comment:
Lulu said...

October 24, 2009 at 5:23 PM

 

nice bitaw ang area rugs cai i agree it adds glamour to a room