September 16, 2009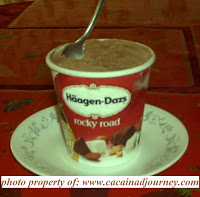 my fave ice cream
Summer days is humid and warm. Well, what can we expect during summer season - is its hotness way. So let's have some ice cream everyone. Let us cool off ourselves.. (~_~)

What's your fave ice cream folks? Mine is shown above.. Haagen-Dazs brand of rocky road flavor. The taste is so good to me. Do you like this too? Just a tip, don't eat ice cream if your hungry(or else there will be a trouble in your stomach or health afterwards), okiemz?
Have an ice cream for summer fun!

6 Comments:
September 16, 2009 at 9:41 PM

 

We always have ice cream in our freezer Beck. Whether is summer, winter or fall, ice cream is always there. Me and hubby's favorite is the Mango ice cream. Yummy talaga. I just finished eating my share a hour ago.

September 17, 2009 at 1:37 AM

 

i love ice cream at any given day ;)

September 17, 2009 at 3:38 AM

 

My favorite is Haagen Dazs' Creme Brulee. Yumyumyum!

September 17, 2009 at 7:02 AM

 

My favorite is frozen chocolate yogurt. No toppings, just the yogurt.

September 17, 2009 at 7:18 AM

 

Eating ice cream is cool... how are you sis?

September 17, 2009 at 11:43 AM