September 18, 2009
posted by: Cacai M.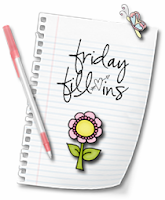 It is Friday again, so time for Friday Fill-ins meme. For now, this is it:


1. My car is my husband's car (~_~) .

2. October month is coming up next.

3. Lately, things seem difficult to comprehend .

4. The place you do not know is one of my favorite 'hiding' places.

5. What happened today is for today .

6. Possible (~_~) is not impossible!

7. And as for the weekend, tonight I'm looking forward to wash clothes , tomorrow my plans include blog hopping more and Sunday, I want to rest !


For more of my FF entry click here . If you like to join in this meme, click the banner above.


7 Comments:
September 19, 2009 at 11:12 AM

 

hehee...like the answer number 6 (wink)...it is indeed true... mwahhh....visiting here sis sa saung kadlawon..walay pay tulog ko ani

September 19, 2009 at 11:49 AM

 

Blog hop ta karya hoping dili mag bisyo ning atong hinay nga computer nga ilisdanan na ug bag o. Preha jd ta do, walay sakyanan, tsinelas ra intawn. paabut ug i drive sa bana.

September 19, 2009 at 3:03 PM

 

Dropping by here girl... Have a good day!

September 19, 2009 at 3:04 PM

 

I wanna join this.. it seems fun...

September 19, 2009 at 3:04 PM

 

Thanks for the comment sis! I really appreciate it!

September 19, 2009 at 5:03 PM

 

dugay na ta ka tsika mareng saon busy ko kay sick si andrea... sensya na

September 20, 2009 at 12:28 PM

 

"4. The place you do not know is one of my favorite 'hiding' places."
hello sis, that's a good answer ha! I wonder kun saan ang hiding place mo...heheh