September 24, 2009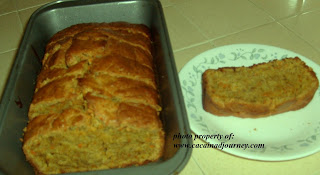 carrot-banana bread
Some called this as cake but since the recipe book I
bought call this as a bread so this is what I call, but it's up to you folks how do you wanna call this. I have this recipe book for more than a year already yet it's just only sometimes I use this. (~_~).. I like to stash stuffs you know.. that one in a right time I can make use of it.
It came up to my mind two days ago after seeing the ripe bananas slowly turn to overripe, to make a banana cake but since we have also a pack of carrots and stashed ingredients, I let my imagination to make a banana carrot recipe instead of just banana. Carrot cake is one of my fave by the way. (~_~). Okay, my imagination was sone already, the result is what you've seen above. If you want the recipe, just tell me and I will post it for you.

10 Comments:
September 24, 2009 at 4:32 PM

 

Karya I want the recipe of carrot cake, thats my fave ever as in delish yummo hehehehe. Maybe your recipe is simple cos it came out pretty darn good. mao d i ni imu gikabusyhan karya, baking ahhh domescticated and dating. swerti ni bana ahh.

Blog Fusion Milestones Worths Road Simple Happy Life

September 24, 2009 at 5:18 PM

 

wow i am sure this is yummy! I love banana bread ... i havent tried banana carrot bread though..

September 24, 2009 at 6:56 PM

 

I love banana bread too,,,don't know about the carrot though...

Hummm...nagka-idea nuon ko Sis...pa bake ko kang hubby ani...hehe

September 24, 2009 at 9:17 PM

 

wow! that looks so yummy ha!!!

September 24, 2009 at 11:45 PM

 

wa pa ko ka try ug carrot cake, pero gisulti man na ni Sharon na lami daw ang carrot cake. post daw be ang recipe hehe. try daw nako kung lami ba jud. banana cake or bread, ah yummy jud na sya pero bug-at sa tiyan inig kabusog..nyahaha.

BTW. naa ko tuplokers sa iTravel sa ubos ng header then kanang mga double lines na words, mao nay mga tuplokers hehe.

Thanks sa visit.

oi diay, 1 tuplok lang a day kay masuko nya ang pulis...

September 25, 2009 at 2:49 AM

 

i haven't heard about this carrot and banana bread or cake yet sis..i heard banana cake and carrot but not with the two main ingredients in it..but I am sure this taste good

September 25, 2009 at 5:41 AM

 

hmm, interesting combination between carot and banana. it looks yummie.

September 25, 2009 at 6:57 AM

 

Looks yummy! Ginutom tuloy ako.

September 25, 2009 at 10:05 AM

 

wwahhh, mag drool man ko uy, dugay ko wa ka bake ug carrot cake, gitapulan man gud ko lately :-)

September 25, 2009 at 3:49 PM

 

I like banana cake and carrot cake.