May 16, 2009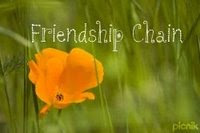 This Friendship Chain tag was given to

me

first by my new-found friends here blogosphere Liza of

A Simple Life

, Momma Beth of Mommy Passionista, Te Beng of

Beng's Entertainment Spree

. Actually one of her blog was my fave and now that she's one of my friend, I will treasure her as well as of course the dear momma Te Beng. I haven't know that she's one of the thoughtful and kind person and now that I know she is, am sure she is also a pretty and deary one. Thanks a lot Liz, Momma Beth, and Te Beng for this chain. muahhh! I would also like to appreciate the kindness of

Momgen

of

My Life's Adventure

, Reya of

Fragments of Thoughts..a piece of life

, and my ever friend David of

Basic Bloganomics

. You really know that am a kind of person who wants to be a friend of everyone. (~_~) I wish you all the best my sweet friends of mine.
And as a sign of our frienship, I am accepting this. muahhh!
******
Thank You

FIRST COMMENTER
:
David Funk of
Basic Bloganomics

1 Comment:
David Funk said...

May 16, 2009 at 8:14 PM

 

Thanks for posting this award. We both think much alike, and want to be friends to everyone we can. You are such a sweetheart my wonderful friend!:)

I thank God I have a great friend like you!