January 23, 2009
posted

by

:

Cacai M.
I am happy and amaze as I open my blog today fo

r my new friends in blogging visit me and commented on one of my blog, and it's not only that! My cute pretty friend and co-blogger
Rechie
of

CHUCHIE'S HIDEAWAY
who has a nice beautiful page and content gave me a

n HONEST SCRAP AWARD of which what you will see below.

Thank you my friend for having me as one of your awardee. You m

ake me happy today despite of the trials in my blogging journey. Thank you again my friend.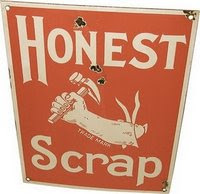 Honest Scrap Award Rules:
When accepting this auspicious award, you must write a post bragging about it, including the name of the misguided soul who thinks you deserve such acclaim, and link back to said person so everyone knows he or she is real.
Choose a minimum of 7 blogs that you find brilliant in content or design. Or improvise by including bloggers who have no idea who you are because you don't have 7 friends. Show the 7 random victims' names and links and leave a harassing comment informing them that they were prized with "Honest Weblog." Well, there's no prize, but they can keep the nifty icon. List at least ten honest things about yourself. Then, pass it on!
About my 10 honest things about myself:
(1)I love my husband and family second to God.
(2)I treasure friends.
(3)Currently addicted in blogging.
(4) I currently find out that am a little stubborn and a little perfectionist.
(5) Optimistic.
(6) I love pizza.
(7) I feel empty on myself sometimes, maybe I miss the people in the Phils.
(8) Addicted to pc/internet.
(9) I have a large gap of age between my husband but I couldn't see that. I guess, am being hit by the quotation "Love is blind that lovers could only see". And our love is forever.

(10)Am a self-learner and keen observer.
And now I am passing this award to

Dhemz
, Shawie, Allen's Darling
, Nedekcir, PrettyMom
, Femikey, and Eednic

.
Have a Pleasant Day my friends! I treasure you! (claim your award n
ow guys
)
... (~_~)

3 Comments:
Nedekcir said...

January 25, 2009 at 5:33 PM

 

Thanks for the award, btw I approved you at friendster. Thanks for the add.

Cacai_Nad said...

January 25, 2009 at 5:58 PM

 

You're very welcome my friend. I'm glad you accept me in there and in here. God bless as always! (~_~)

Shawie said...

January 30, 2009 at 1:20 PM

 

salamat, Beck for the award:) bitaw, tapulan naman ko oi:( many na pending awards, but I will add your blog na jud to my blogroll...keep posting, gurl!:)
try joining some other social networks too for more links:)